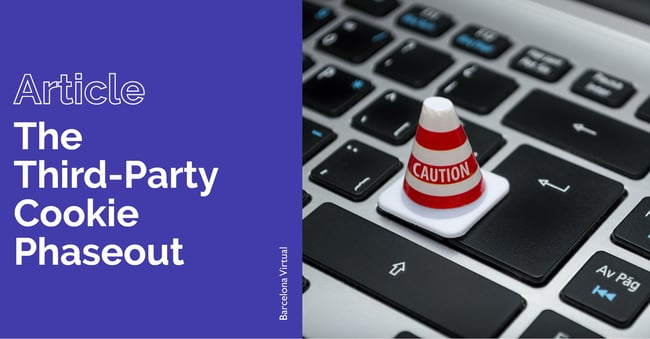 User fears about privacy are colliding with their desire for relevant information and promotions
★ 3 MIN READ | Quick Read | Data ★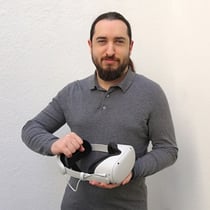 Headlines – digital and otherwise – are buzzing lately, with the news about growing restrictions on data collection and tracking by companies.
To help us understand the basics, we've asked Edgar Griñant to give us a quick "cheat sheet" about the main points.
Edgar is a 15-year veteran of Barcelona Virtual and the agency's Chief Innovation Officer. He is also the Director of the BV Innovation Lab, where he and his team explore Artificial Intelligence, Voice Technology, Neuromarketing, Smart Data and much more. You can visit the Lab here.
Goodbye, Third-Party Cookies
It's finally happening: Apple and Google are changing the rules of retargeting.
The Cupertino giant has already rolled out an update on Safari, blocking 3rd party cookies by default. Google announced that they are taking the same path for 2022.
This will have a big impact in the way retargeting works; however, a closer look will show that it is not as revolutionary as it seems.



Nothing New . Firefox introduced "Enhanced Tracking Protection" in June 2019. However, this wasn't big news because Firefox only had a 5% of market share at that time. Currently for Mobile, Safari and Chrome make up 80% of browser usage; for Desktop, Chrome Safari and Firefox sum up 75% of browser usage. Now these are big numbers.
Are Cookies Bad? . Cookies are generally used to improve the user experience in many ways. However they gained a bad reputation by the fact that they are also used to store tracking information. If they are "third-party cookies", then they can be used to share information between sites and this has become a major privacy concern.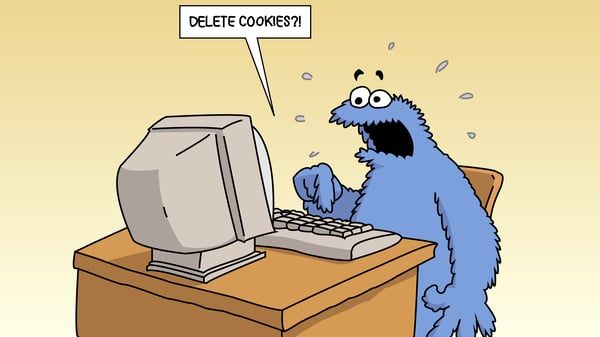 This frightened Cookie Monster is one of the Internet's enduring memes
What Are Your Options As A Marketer?
So it seems that Cookie's Monster's worst nightmare has come true, causing a lot of questions and worries for Advertisers and Marketers. Especially those of us who are heavily invested in Customer Relationship Management (CRM) or automated Inbound Marketing. Is everything lost?
Do we all need to go back to Square One?

Personally, I think we can consider three options:


Contextual Advertising: In this scenario, Marketers rely on information on the website to show adverts that are relevant for the user. Many MarTech platforms such as Selligent Marketing Cloud* offer solutions such as Site that permit personalisation of webs according to user interests and behaviour.

First-Party Data: With all the noise about third-party data, the good news is that information directly from our customers is still available, via their logins or registrations. This allows any Digital Marketer to show promotions, messages and ads based on information that our customers have freely chosen to share with us.

Work-in-Progress Solutions: Many platforms are working on ways of identifying users based on unique IDs, yet with GDPR in place this will be a very difficult task to achieve.

For its part, Google initially announced that they wouldn't offer alternatives to replace third party cookies. However in January 2021 they did eventually admit that they are working on FLoC (Federated Learning of Cohorts) literally stating "FLoC can provide an effective replacement signal for third-party cookies".


As my Marketing colleagues here in the agency point out, in many ways this an opportunity for all ethical brands and Marketing Directors who are dedicated to building long-lasting relationships with their customers. And solving real-life, relevant problems for them.
Much as Google's constant SEO algorithm updates aimed to rid the Internet of deceitful "Black Hat" schemes, thereby rewarding the Best Practices of legal "White Hats", this cloud may have a silver lining for many of us.
Final Thoughts
These are – of course– very technically-oriented details. Nonetheless, as we all know, there are also commercial considerations to take into account. Before we end here, please allow me these additional reflections.

Is It Truly Only about Privacy?
Google and Apple have so much information about their users through other channels (e-mails, device IDs, WI-FI, browsers, etc.) that they could easily track users without the need of third-party cookies. That said, the real reason for preventing third party cookies could be to make it more difficult for other companies to track users, effectively killing smaller competitors and forcing the industry to use the services of Google or Apple for Advertising.
Tracking Prevention
In addition to third-party cookies being blocked, Apple is rolling out their intelligent tracking prevention for iOS and macOS Big Sur. This will block any request to Google Analytics and other tracking platforms. As you can see, this is a very dynamic situation, so please stay tuned for my next article covering alternatives, in order to help you to prevent the loss of more user data!
---
Now, more than ever, it is vital to:
Recognise how important the privacy concerns of your customers are

Be transparent. Create trust, giving easy access to your privacy policy in plain language

Encourage worry-free sessions on your web or e-commerce via logins
---
In our February 2021 podcast, we explore the importance of trust with consumer data


---
---

Other helpful resources
Sign up

for our periodic Strategy Alerts

Listen

to our Alexa European Marketing podcast

Follow

our 4-part mini-course on getting started in e-Commerce
---

Original post published on 15 March 2021
Updates: