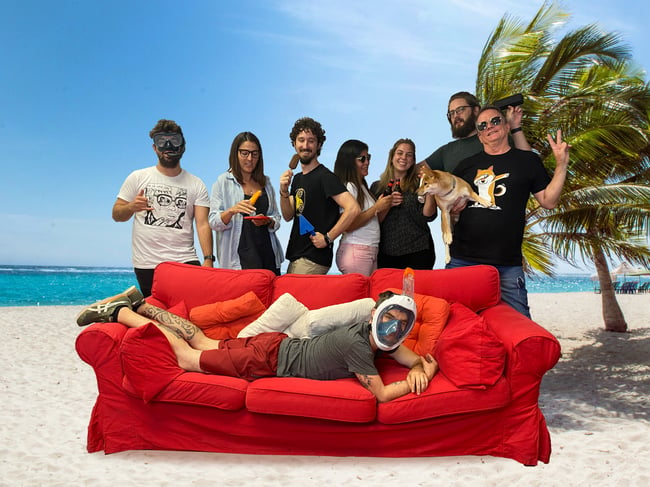 ¡Estos miembros del #BVTeam ya están preparados! · ¿Y tú?

Porque el verano está lleno de cosas divertidas
y de momentos inolvidables, pero también de mucha calor
y de tardes solitarias en el pueblo.


---
Por eso
– y para que no te aburras –
te dejamos 3 tips
para que intensifiques tu verano:

· un relato corto para viajar lejos
· un podcast que suena a futuro
· y un vídeo masterclass


---
Empecemos por un artículo que llega desde el año 2042
para explicarnos, en forma de storytelling,
donde estamos y hacia donde nos dirigimos.

– LOOK –
News from the Future
---
Edgar, Chief Innovation Officer,
es la pieza central en este episodio del BV podcast.
Con él, descubrirás cuál es el futuro de la Web,
y qué es todo eso que el "Big Tech" está tramando.

¿Le escuchamos?


– LISTEN –
Sintoniza con el futuro
· · · · ·
Go to this episode's Programme Notes & Resources · Consult our Podcast Directory.

Edgar Griñant
CIO & Director, BV Innovation Lab
En Episodio 9 Paul, anfitrión del podcast, habla con Edgar, nuestro Director de Innovación, sobre qué es la Web 3, el metaverso, los NFT, bitcoin y otras criptomonedas... Y cómo prepararte para dominar las nuevas tecnologías de la Tercera Década [en inglés].
---
Mejor maña que fuerza
Lo mismo pasa con el Marketing por mucho
esfuerzo y dinero que le pongamos,
las estrategias, planes y acciones que se realicen
no serán eficaces si no se hacen con...
maña.


– LEARN –


Intelligent Marketing

Iñaki Bigatà
Senior Specialist, BV Innovation Lab
Y, para que tu Marketing sea perfecto, aquí tienes esta cápsula de una Masterclass de 2 horas y media impartida por Iñaki.
En tan sólo 30 minutos te explicará las 3 claves fundamentales del Intelligent Marketing – y cómo puedes aplicarlas a tu marca y proyecto.
---
Estos son nuestro Top 3 Tips
para intensificar tu verano, pero tenemos más,
mucho más.
Por si a algún otro momento de tu verano
le falta un poco chispa o intensidad:
blog posts, podcasts y vídeos para disfrutar donde quieras,
y muchos más posts como este.

¡Feliz verano! 🌞 Bon estiu!
---