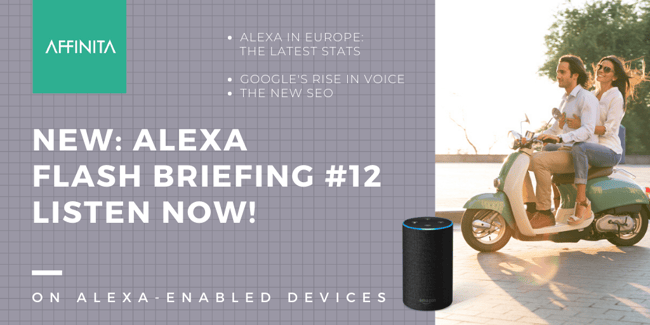 _
In our 12th Flash Briefing: Competition in Europe between Amazon & Google Heats Up
• • • • •
IMPORTANT NOTE: This is a resource-rich post. If you connect via mobile and see a simplified AMP version (Accelerated Mobile Pages), please scroll to the end and click on "VIEW FULL POST".
Alternately, view the post from your desktop PC to enjoy all we've prepared for you! ;-)
• • • • •
A year after the launch of a Castillian-Spanish speaking Alexa here in Spain, we look at the latest stats for Amazon Echo and Google Home in Europe. And we offer a Smart Data Tip to help you prepare for Voice Search in this twelfth episode of our popular Alexa European Marketing Flash Briefing.
Scroll down to find
more information, examples and links
mentioned during the podcast.
If you don't use Alexa, you can also listen to the podcast by scrolling down to the embedded audio, below. (Just click on the Soundcloud links below.)
---
BREAKING NEWS · 15 NOV 2019 Amazon Sold 3 Times More Smart Speakers than Google in Q3 2019
---
---
HOW TO LISTEN USING ALEXA: It's easy to set up Alexa to hear our Flash Briefing: step-by-step
---
What Are the Stats for Alexa in Europe?
In Europe, the Smart Speaker market is less than three years old, that's why growth is still so strong. According to IDC, the market grew almost 527% from 2016 to 2017 -- and 90% from 2017 to 2018.
Last year, 16 million smart speakers shipped here on the Old Continent. By 2023, IDC expects 43 million units to be sold in Europe (which seems low to us).
And getting back to worldwide figures, Voicebot.ai cites smart speaker sales surpassing 1 billion units in 2023, if we combine totals from China, U.S, and the rest of the world.
Alexa devices have been the leader in Europe – until 2019. In Q1 of this year, Google captured the first spot.


---
Why is Google Home Gaining Share?
This past Spring, Amazon had some supply problems in Europe. At the same time, Google has been expanding rapidly into new markets; right now Google Home (now rebranded as Nest) is sold in 10 European countries.
Analysts think it's due to Amazon's focus on developers & new skills – as well as improving device capabilities. Whilst Google has concentrated more on basic functionalities, localising new languages & entering new countries.

However, Google is not impervious to fickle moves on the part of Digital Fate. This October, thousands of Google Actions (the equivalent of Amazon Alexa Skills) mysteriously disappeared online, as Bret Kinsella reported.


---
FIND IT FAST! Check out all of the previous Flash Briefings in our handy new Directory.
---
_In the UK, as in other European countries, Amazon uses very human stories to introduce Alexa
Google Home was rebranded as Nest in May of 2019


---
Links
Flash Briefing 12 | October, 2019
---
Our Content Sponsor:
Please remember to sign up via the following link
if you'd like to be notified when we release a new episode:
---
We hope you enjoy the monthy broadcasts, hosted by Paul Fleming, together with Anna Hernández.

You can find this podcast at any time on various platforms:

By speaking to Alexa, here on the Barcelona Virtual Blog or at our Soundcloud profile page.
Please, don't forget to include your comments with us here on the Blog; and also to share your own examples of innovative Intelligent Marketing from Europe.
Your own project just might be featured in one of our future Flash Briefings!
We look forward to hearing from you.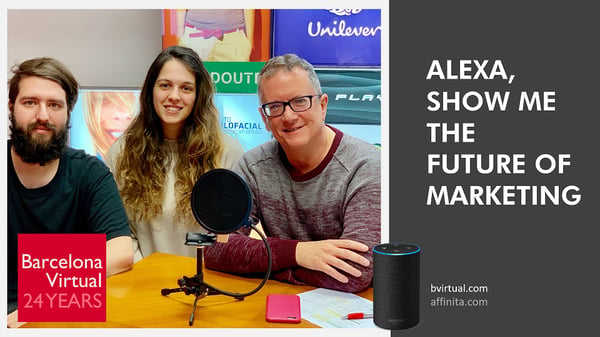 The Production Team of our European Marketing Alexa Flash Briefing: Pere, Anna and Paul

Originally published on this blog on 24 October 2019.
Updates:
25 October 2019
31 October 2019
05 November 2019
21 November 2019
28 November 2019