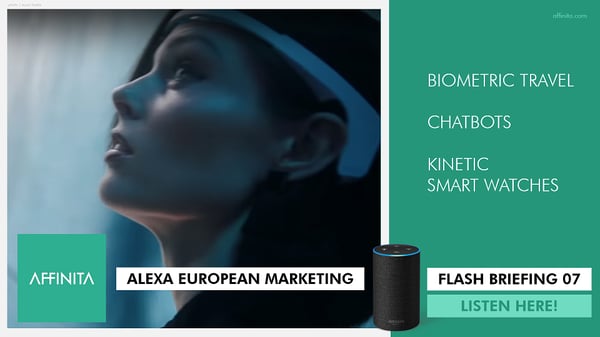 In our 7th Flash Briefing: Innovation Made in France & Switzerland, plus our usual Smart Data Tip
The far-reaching effects of the Intelligent Marketing Revolution are explored here, in our seventh Alexa Flash Briefing. As always, concise and to the point. In this post, you can find more detailed information, examples and links mentioned by Paul and Anna during the podcast.
And if you have not yet heard this episode, be sure to enable it on Amazon Echo devices. Then, simply ask Alexa to "play your European Marketing Flash Briefing from Barcelona Virtual!"
If you don't use Alexa, you can also listen to the podcast by scrolling down to the embedded audio, below. (Just click on the bright orange Soundcloud button.)
---
France: Hyper-Personalisation Using Biometrics
The French hotel leader, Accor, has given Customer Loyalty strategies a new twist. Using biometrics that measure personal data such as EEGs, heart rates, skin responses -- as well as actual user behaviour -- the "Seeker Project" attempts to offer users more relevant travel destinations.
However, it's not just about tracing a route from A to B.
"Seeker", shown below in a brilliant installation video reminiscent of Blade Runner aestheics, extends the "Human Interface" far beyond hands-to-type and eyes-to track. The immersive project offers a glimpse of a hyper-media experience that will be commonplace in many of our lives soon.



These highly personal recommendations are not only explored in the installation shown in the video, however. Curious users can also connect their own webcams at SeekerProyect.com and experience it for themselves.


According to the website:
The online version of SEEKER mirrors the live experience, measuring impulse-based reactions to our stimuli, paired with heart rate tracking measured via webcam.
Data from both the live and online experience creates a generative portrait of personality and emotion, as unique as a fingerprint. The system then references this data against traits of Accor destinations, to offers you more meaningful, more personalized suggestions.
---
Switzerland: Eco- Friendly Kinetic Smart Watches
The second example of European Innovation takes the cliché-ridden idea of "precision Swiss watches" to a new level, thanks to kinetic technology united with Smart Watch connectivity.
If you are active -- or even hyper-active -- this will interest you!
Yet, the Sequent Smart Watch will also appeal to all those of us who strive for a "clean tech" lifestyle, harvesting their own body's energy as part of the Sustainability macro-trend highlighted by Hamburg-based consultancy, Trend One.
According to its inventors, the Lucerne-based company estimates that the wearers' kinetic, rechargeable energy avoids millions of batteries, since it is 100% clean and renewable.


---
Smart Data Tip: Why Your Brand Needs a Chatbot
As mentioned during the Flash Briefing, a chatbot is fast becoming an essential component in a Marketing Mix directly to the Always-On Consumer.
According to Chatbots Magazine, 67% of US Millennials say they are likely to purchase Brands which use a chatbot. And it's estimated that chatbots save up to 30% in customer support.
In the case of "BEEVIE", the Barcelona Virtual chatbot we created 2 years ago, any interested friends, fans or even potential customers can obtain information about the agency, 24/7.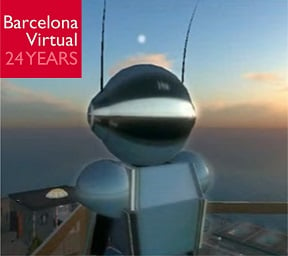 As Anna mentions, BEEVIEW "lives" on the Barcelona Virtual Facebook Page and can be contacted via the agency's Messenger channel. Simply by clicking on the blue "Send Message" button, users will discover the practical tips and advice of our synthetic colleague, along with his sense of humour.
Just ask him about Sex, God, Trump -- among other topics -- and you'll see what we mean!


---
HOW TO LISTEN USING ALEXA: It's easy to set up Alexa to hear our Flash Briefing: step-by-step
---
Links | Flash Briefing 07 | May, 2019

Sources and Resources mentioned by Paul & Anna:
---

Our Content Sponsor:
Please remember to sign up via the following link
if you'd like to be notified when we release a new episode:
---
We hope you enjoy the monthy broadcasts, hosted by Paul Fleming, together with Anna Hernández.

You can find this podcast at any time on various platforms:

By speaking to Alexa, here on the Barcelona Virtual Blog or at our Soundcloud profile page.
Please, don't forget to include your comments with us here on the Blog; and also to share your own examples of innovative Intelligent Marketing from Europe.
Your own project just might be featured in one of our future Flash Briefings!
We look forward to hearing from you.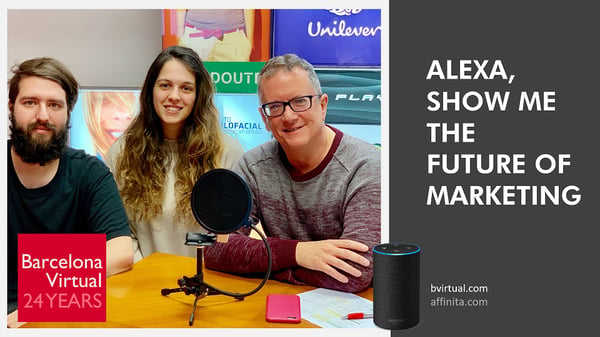 The Production Team of our European Marketing Alexa Flash Briefing: Pere, Anna and Paul