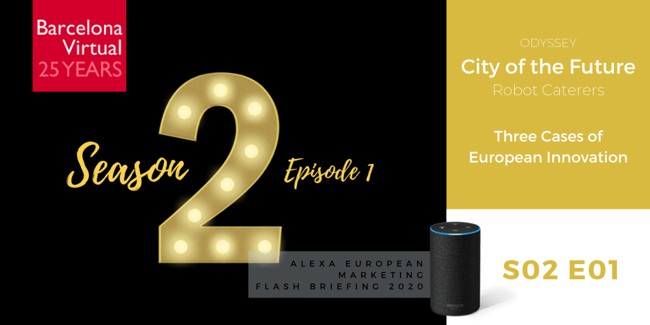 _
In the opening Flash Briefing of Season 2, Paul and Anna begin 2020 with cases of European Innovation
Our latest Flash Briefing is the perfect way to begin 2020 -- as well as the Third Decade of the 21st Century!
The conversation deftly moves from the City of the Future unveiled at the 2020 Consumer Electronics Show, designed by Danish "starchitect" Bjarke Ingels, to a first mention of a very practical Smart Attribution tool from the Netherlands. Your hosts then finish in the United Kingdom, where they look at the amazing capabilities of a robotic Caterer, sure to interest our listeners in the restaurant, MICE and hospitality industries!
Enjoy these fascinating glimpses into the life we'll all be leading from 2020-2030. And be sure to scroll down to the links and resources we've provided below.
Listen on all Alexa-enabled devices (click here to know how), on Spotify or by means of the embedded audio just below.


---
FIND IT FAST! Check out all of the previous Flash Briefings in our handy new Directory.
---
---
HOW TO LISTEN USING ALEXA: It's easy to set up Alexa to hear our Flash Briefing: step-by-step
---

Links
Flash Briefing S02 E01 | January, 2020
---

Our Content Sponsor:
Please remember to sign up via the following link
if you'd like to be notified when we release a new episode:
---
We hope you enjoy the monthy broadcasts, hosted by Paul Fleming, together with Anna Hernández.

You can find this podcast at any time on various platforms:

By speaking to Alexa, here on the Barcelona Virtual Blog,
on Spotify, Podbean, Apple Podcasts or at our Soundcloud profile page.

Please, don't forget to include your comments with us here on the Blog; and also to share your own examples of innovative Intelligent Marketing from Europe.
Your own project just might be featured in one of our future Flash Briefings!
We look forward to hearing from you.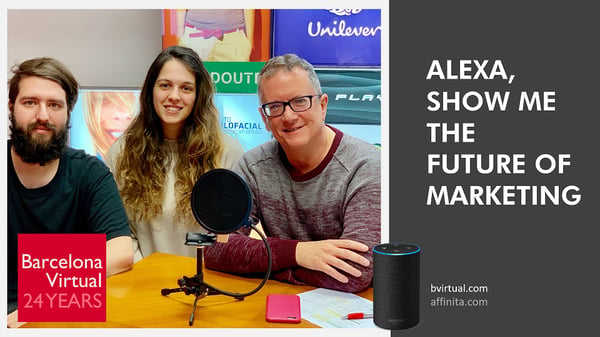 The Production Team of our European Marketing Alexa Flash Briefing: Pere, Anna and Paul

Preliminary post published on 15 January 2020.
Flash Briefing released on 16 January 2020.
Updates: