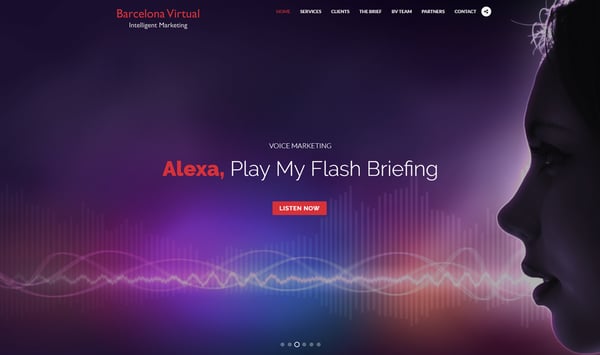 The Alexa European Marketing Flash Briefing is produced monthly
by Barcelona Virtual, an Internet pioneer and co-founding agency of the international network, Affinità.
---
LISTEN TO THE LATEST EPISODE:

POD 53 | Synthetic Users & AI · Kwame Ferreira · BV European Marketing Podcast · S05 E07
---
Fans of Amazon's Echo devices can finally listen to our new Flash Briefing on European Marketing simply by asking their voice assistant, Alexa, to "play the European Marketing Flash Briefing".
Thus far, the Barcelona Virtual podcast is LIVE on Alexa in Spain, Germany, France, the UK, the United States, Canada, New Zealand, Australia, Mexico and India.
In all cases, the content is in English, although users in non-English speaking countries can request to hear the free broadcast by speaking to Alexa using their own language.
For example, in Spain, once the new Skill has been enabled (see how to do so, below), users can say "Alexa, abre mi Flash Briefing" - or even, "Alexa, pon mis noticias" and they'll hear the agency's monthly Flash Briefing begin*.
That will initiate one of 3 segments, with new editions each month, offering Barcelona Virtual's Alexa listeners cutting-edge, concise European Marketing content.


INTERVIEWS feature "Quick Chats", Interviews with European entrepreneurs
NEWS + TIPS provide the latest news on Voice & Smart Data Tips
CASE STUDIES complete the Briefings with innovative Case Studies from Europe


---
DON'T HAVE ALEXA? Listen to Barcelona Virtual's European Marketing podcast online.
---

The inaugural Flash Briefing is especially interesting, because it features a fascinating interview with Raúl Cabrera about the importance of Intelligent Marketing.
Raúl is an entrepreneur and a former executive at Odeon Cinemas Group, an AMC company. He's now Global Head of Ticketing, e-Commerce & Hospitality at FC Barcelona football club.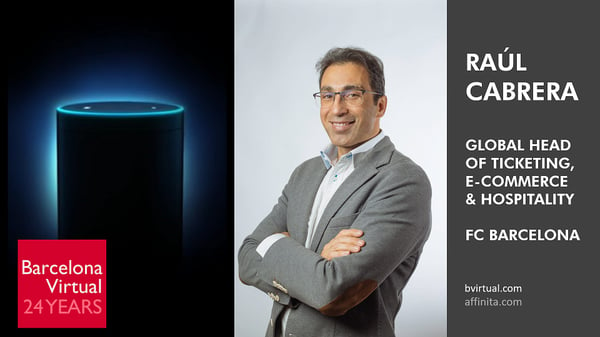 ---
How to install and listen to the Alexa European Marketing Flash Briefing
It's easy, following these simple steps:
Download the Amazon Alexa mobile app (

Android

| Apple iOS) and then login, using your Amazon username and password.


In order to use voice commands with Alexa for the Barcelona Virtual Flash Briefing, you must first find and enable (activate) it. Open the mobile app and choose Skills & Games from the menu in the upper left corner:




---

Once there, choose the submenu Business & Finance from the section Categories:




---

The fastest way to find and select the Skill is to go to Search and use the keywords "european marketing", as seen below. You may also search by typing "barcelona virtual":




---

From there, choose our Flash Briefing and activate it by clicking on the button Enable to Use:




---

To add other Skills to your Alexa Flash Briefing, go to Manage Flash Briefings:




---

By clicking on the Edit button, you can easily change the order (to hear the Barcelona Virtual podcast first, for example), or to add or remove Skills:




---

Finally, ask Alexa to play the latest European Marketing Flash Briefing!

| | |
| --- | --- |
| | |
We hope you enjoy the monthy broadcasts, hosted by Paul Fleming, together with Anna Hernández.

You can find this podcast at any time on various platforms:

By speaking to Alexa, here on the Barcelona Virtual Blog,
on Spotify, Podbean, Apple Podcasts or at our Soundcloud profile page.


Please, don't forget to include your comments with us here on the Blog; and also to share your own examples of innovative Intelligent Marketing from Europe.
Your own project just might be featured in one of our future Flash Briefings!
We look forward to hearing from you
---
THANK YOU FOR VISITING OUR SOURCES
---
Originally published on this blog on 20 January 2019.
Updates:
25 January 2019
28 January 2019 (video)
21 May 2019
20 June 2019
05 September 2019
31 October 2019
16 January 2020
21 February 2020
17 April 2020
08 July 2020
16 October 2020
23 December 2021

* For the time being, due to the Pan-European focus, the Flash Briefing will be offered initially only in English. We are currently pending Amazon approval for access to the Skill in Italy.. See above for the list of countries where our European Flash Briefing is available using Alexa.
All episodes will always be available here on the Barcelona Virtual Blog for our friends who wish to hear the podcast separately from Alexa, as well as others who wish to hear a given Flash Briefing interview or topic again.