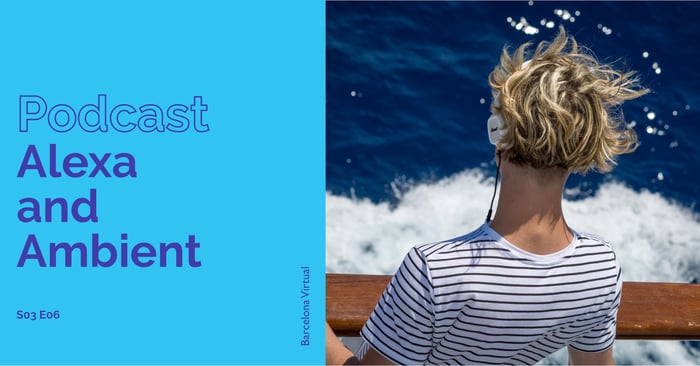 In this 32st edition, we explore Alexa's focus on Ambient Computing & highlights of Alexa Live 2021

With Alba on summer vacation,
Paul is joined in the studio by the entire Voice Services Team
of our BV Innovation Lab.
Whilst George extolls the benefits
of Ambient Computing and Henry reveals
new Voice Commerce capabilities,
not everyone is convinced.

Leslie continues to be affected by #FOA and
clearly does not find it funny when Carrie
suggests she track her boyfriend – using Alexa!

Listen right here, and scroll down to consult
additional resources
in this episode's Programme Notes.


---
"Ambient Computing
includes Voice,
but it takes us even further:

Into an immersive experience
that is also visual,
and where we may interact
via gestures and even motion.

Sensors will help Alexa to provide us
with useful, contextual solutions."
---
---

Programme Notes and Links


BV Podcast S03 E06 | June-July 2021
.




AMBIENT BASICS
The Alexa Live Keynote video gives a rich overview
of the more than 50 innovations presented in Seattle on 21 July 2021
Send to Phone: This engaging example from McDonald's UK
shows seamless interaction between Alexa and "Mc Apps" ;-)
A major announcement at Alexa Live 2021:
the possibility to purchase products directly from within a Skill
REAL LIFE EXAMPLES
---
RELATED Alexa Live Wrap-Up 2020 · BV European Marketing Podcast · S02 E09
---

BONUS RESOURCES
---
FIND IT FAST! Fresh Ideas & Tips to help you, in our handy Podcast Directory.
---



Podcast Transcript



Our Content Sponsor:
Get Updates:
---
We hope you enjoy the monthy broadcasts, hosted by Paul Fleming, together with Alba Güell.
We look forward to your feedback, at podcast@bvirtual.com!


You can find this podcast at any time on various platforms:

By speaking to Alexa, here on the Barcelona Virtual Blog,
on Spotify, Podbean, bCast, Apple Podcasts, or at our Soundcloud profile page.


Please, don't forget to include your comments with us here on the Blog; and also to share your own examples of innovative Intelligent Marketing from Europe.
Your own project just might be featured in one of our future Flash Briefings!
We look forward to hearing from you.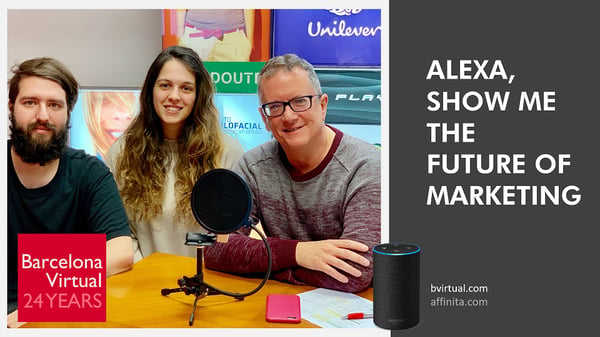 The original Production Team of our European Marketing Alexa Flash Briefing: Peter, Anna and Paul

Full Disclosure and Transparency:
* The four members of our Voice Services team — Carrie, George, Leslie and Henry — are AI-generated, natural language voices. Their personalities have continued to develop (and even flower) since they joined the BV Team in the Spring of 2020. Each one was born in Vancouver, BC, Canada at NaturalSoft, Limited.
This post was originally published on 28 July 2021
Podcast release: 27 July 2021 on Alexa devices, here on this blog & popular podcast platforms.

Cover Photo: George Desipris
Updates: