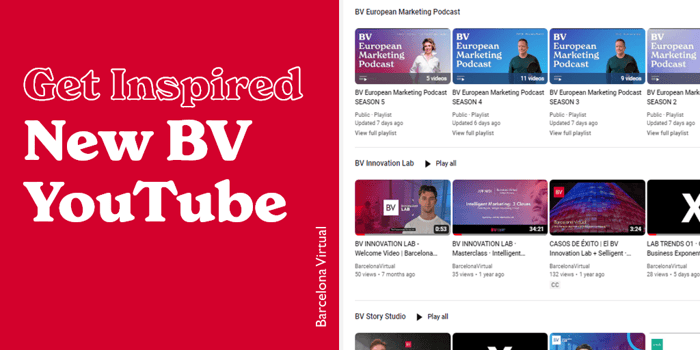 ★
2 MIN READ
|
Quick Read | DIGITAL RESOURCES ★


These days, it's hard to find truly relevant information for your projects. Quickly!
It's true, despite Google, ChatGPT and other integrated Generative AI tools.
The key to finding inspiring, yet practical knowledge that gives you a competitive advantage lies in turning to trusted Thought Leaders in your particular field.
In our case, that area of expertise covers Digital Marketing, e-Commerce, Podcasting, AI, Neuromarketing, the Metaverse, and a plethora of New Tech that we track in our

BV Innovation Lab

.
As one of Europe's first Digital Marketing agencies (founded in early 1995), we have a host of resources, use cases, campaigns and even historical vintage material to offer.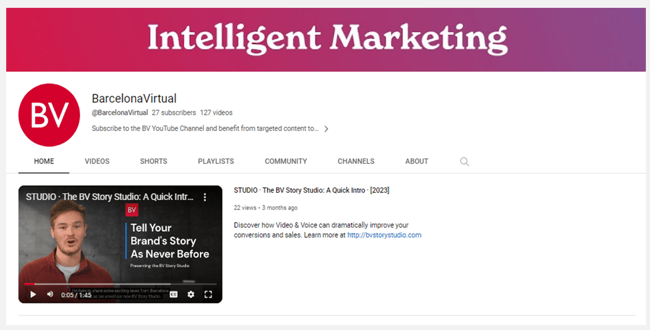 Restructured YouTube Content
Our explicit goal is to help you quickly locate useful audiovisual agency content.
We hope it not only inspires you, but also provides you with strategies, "how-to's" and practical ideas you'll be able to use. To locate your most profitable customers. Create a truly 21st-Century Brand. And achieve e-Commerce results that surpass your expectations.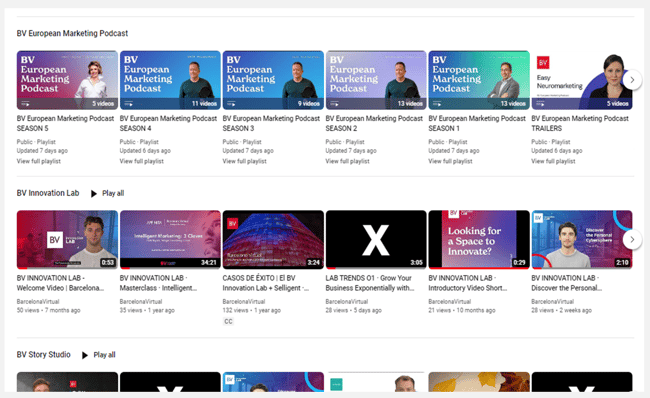 Upon arrival to the channel, unsubscribed visitors will first view a general showcase clip, whilst frequent subscribed members of the BV Channel will always view the most recent video.
Directly below, visitors and members will see a regrouping of main playlists, in this order:
BV European Marketing Podcast
Audio and video versions of the 50+ Episodes from Seasons 1 – 5.
· · ·


e-Commerce Strategies
Strategies, Campaigns and Case Studies from over 28 years of experience.
· · ·


BV Innovation Lab
The Lab Trends Series and non-confidential projects and studies we're free to share.
· · ·


Video Success Stories
Case studies of key clients who surpassed goals, thanks to the strategies we created together.
· · ·


BV Story Studio
New audiovisual projects from our nascent in-house studio, including client work.
· · ·


BV Classics
A selection of special moments in the history of Barcelona Virtual, from 1995 until today.
· · ·


An interesting showcase of Intelligent Marketing:
excellent results from our Partnership with Selligent in the BV Innovation Lab
---
VIP Content for Clients & Subscribers
Our clients and those "power users" who wish to be the first to know enjoy additional content:
First Looks


They'll be the first to view Paul's Take 5 video episodes, with personal insights
from Paul Fleming and the BV Management Team (October 2023)
· · ·



Innovation Workshops




Clients and Subscribers enjoy preferential treatment and guaranteed reservations


at our frequent workshops and seminars.
· · ·



Additional Benefits


These include discounts on advertising on the BV European Marketing Podcast, automatic subscription to the Strategy Alerts! of our Lab, as well as discounts on BV Merchandising (coming January 2024).
· · ·


---
Gain valuable insights & stay ahead
of the competition, thanks to the
Barcelona Virtual YouTube Channel



Subscribe Here
---
The power of Video and Voice: increase conversions and sales with Storytelling
This article was originally published on the blog on

19 July 2023

.