Taking the time to plan your Strategy well
is a guarantee for great results later

★ 4 MIN READ ★
e-Commerce Mini-Course | PART II


---
You'll Learn
The 5 characteristics of "perfect" e-Commerce products

How to turn your idea into reality with a "Buyer Persona"

About the three main pillars of e-Commerce business
---

The future of online business is bright, yet building that business is hard work. This requires you to follow several steps and to make conscious decisions as you progress. That's why we've created this Mini-Course.
Will it be worth it for you? Absolutely!
Some experts predict that e-Commerce sales will be a multi-trillion dollar industry within the next few years. It is the fastest-growing business -- and most valuable one, as well. Take a look at the graphic below.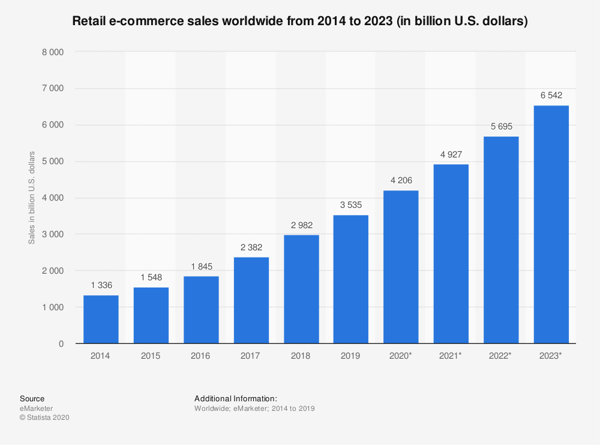 Source: Statista, 2019
For some people, the concept of "Electronic Commerce" still seems mysterious. Yet, as we've seen with the COVID-19 crisis, it suddenly becomes quite fascinating for those who make their very first online purchase!
From the comfort (and safety) of their homes, these new e-Commerce shoppers have experienced the ease and efficiency of finding those special running shoes online, paying quickly and securely and then ... the thrill of having that purchase delivered directly to their doorstep!
e-Commerce also adds a special emotional security at the time of this writing, as it minimises potentially dangerous exposure from external contacts during the pandemic.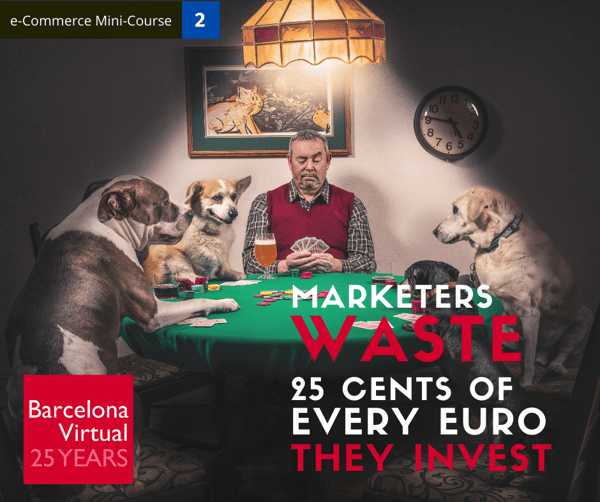 Photo: Gratisography
Is this article for you?
If you recognise the value of this important change in consumer habits and want to know how you can start an e-Commerce business — or perhaps, wish to take an existing online business further, we have news for you.
You've come to the right place! We just won't talk about trends and theories. Instead, in this practical Mini-Course we'll show you practically how to start your online store: beginning with your Great Idea, and then moving on to the task of defining your customers and selecting your products.
We'll walk you through the very first steps, and you'll even finish this post knowing about technical platforms and shipping requirements.
So, shall we begin our journey?
1. Perfect e-Commerce Products
Many entrepreneurs have already started or are considering creating an online business, yet they get tripped on the very first step:
Selecting the ideal product that can be sold online.
Picking the right products to sell online might look like the hardest part, but it's actually much easier. You simply must focus on the characteristics of those types of products that sell best on the Internet.
Now, you may have done several brainstorming sessions with your team, or even alone in your favourite café. But, you still might go in the wrong direction, based on your personal preferences and biases.
The only way to identify that "perfect product" for e-Commerce is to change your focus. Switch from thinking about "me, me, me" to "they, they, they".
The question isn't: "How can I make money? Rather, the question is what do people need, look for online and how much are they willing to pay?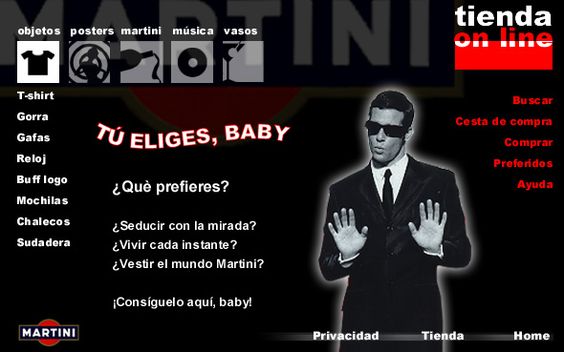 PRO TIP
In your e-Commerce Strategy,

prioritise

selling items online that

cannot be found

in the "Real World". Unique,

exclusive products

that can only be found on your online store

will be irresistible

. This will also avoid conflict with your offline distribution partners
.
BACARDI-MARTINI, AN E-COMMERCE PIONEER
The pioneering online store we developed for the "Martini Man", a popular figure in 90's TV ads in Spain, not only sold products to complement the Brand Experience. We also won the coveted "Sol de Bronce" award at the XIV Advertising Festival in San Sebastián in 1999.

You can google many research tools and ideas to help you as you brainstorm. We recommend that you keep the following points in mind: a helpful set of criteria that will guide you, as you determine which products from your company are most likely to be successful in e-Commerce:


Low Seasonality: You will be wishing for year-round sales in order to be profitable, so choosing a product that is in demand during all four seasons is a good starting point.

Solid Sales Volume: Look for

trends

and best-selling products online: you'll see which products bring a sufficient amount of

short term sales

. Check out

Trend Hunter

and look at lists such as

Etsy's Bestselling Products

.

Retail price: When you set your prices, remember to cover all of the costs you've incurred: manufacturing, of course. But also, costs for promotion, keeping inventory and shipping. Low-cost items are best in the beginning. They'll give you a "Quick Win": a high return on investment (ROI).



Small and lightweight:

Products that are easy to deliver and light to handle will help you reduce operational costs like storing and shipping, thus increasing your profit margins.


Easy and ethical: It will be a great advantage to achieve simple manufacturing, as this can cut out many other complexities in your business model. Look for sustainable, fair-trade suppliers: consumers are increasingly concerned about these issues.
---
LISTEN TO OUR PODCAST: USING AI TO INCREASE SALES
Artificial Intelligence - It's Not Just About Cute Robots

---

2. Turn Your Idea Into Reality
You're already a step ahead if you have a solid idea and a team that believes in it.
Now, stop! Before you go on ask yourself one crucial question: Who, exactly, will buy my products online?
What is he or she like? What product details, image, branding and service will these new e-Commerce customers expect? How can you even know?!
If you have a brand (or perhaps several) that you successfully sell offline, you will obviously have a well-developed profile of your customers. And your products will surely have a well-established Brand Identity. Nevertheless, as we discussed in the Introduction to this blog series, e-Commerce consumers can sometimes seem like exotic tribes, due to very distinct habits, purchase patterns and worldviews.
To turn your Great Idea into reality, you'll need to understand their reality.
In today's complicated world, old formulas such as basic, bare-boned demographic profiles just don't work. You need more.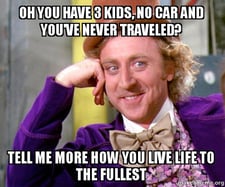 The Mass Marketing of the past century allowed for basic customer profiles.
Mad Men Ad Execs on Madison Avenue might have defined you as follows: White female, 25-34 years old, single, urban, high-school education
This often gave rise to somewhat amusing acronyms, such as "DINKs": "Double-Income, No Kids".
Are you, or have you ever been, a DINK?



Define Your Buyer Persona
A 21st-Century "Buyer Persona", retrato robot here in Spain, is nothing less than a clear, detailed, even subjective understanding of your ideal customers. Such "snapshots", often updated in this dynamic, digital world, further help world-class Sales & Marketing departments to define — and then attract — the right kind of audience to their brands. It can help you, too: to practically and empathically reach your prospective customer better, optimising customer acquisition and retention.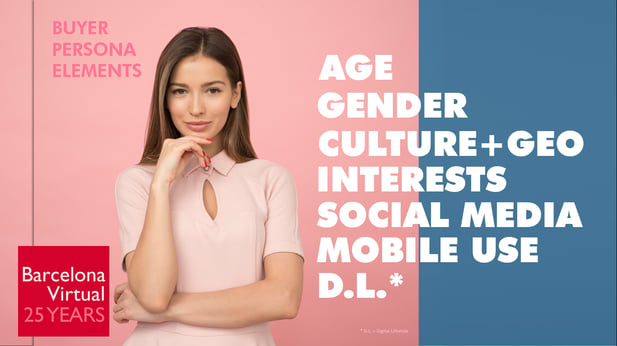 .
Now, the very next question you will have is: how do I create a Buyer Persona?
It's simple, but a little tricky: you can begin by creating a hypothetical profile with your team. After all, you are professionals who know their business. But then, you will need to talk to — and learn from — real customers and polish those profiles. After all, the same young woman who is a fan of your online store just might love opera and Marilyn Manson, all at the same time!
From there, we recommend that you deepen and validate with data.


What Is An RFM Analysis?
Go down the hall to the IT Department, promise your best database expert a cold beer, and ask him to extract an RFM Analysis from your customer database.
The result? You'll find all of your customers who have purchased more

R

ecently, buy more

F

requently, and who have bought products with a higher

M

onetary value.
This will then give you something very, very special:
You will have an isolated subset of your "Mother Database", in which you will find the 20% which causes 80% of your business. What we call in Barcelona Virtual "buscando a Wally".
Looking for Waldo.


---
LEARN MORE ABOUT FINDING WALLY
How to Use A Buyer Persona for Accurate Targeting

---
3.
The Three Pillars of e-Commerce
Congratulations! You've have already read this far, which clearly means you are self-driven enough and determined to turn your dream into reality. So let's conclude with what we consider to be the "3 Pillars" upon which should construct your e-Commerce business.
Let's look at them, together.
A. Set Up Your Store
At the risk of sounding as if we are doing self-promotion, let us first recommend something very important.
If your e-Commerce Strategy is a vital part of your company's future plans, you should not assign such a critical project to the "programmer buddy of your best friend's cousin".
Instead, turn to experts with credentials such as those of Barcelona Virtual, Marketing automation platforms* (in two "flavours": B2C and B2B) — as well as other e-Commerce agencies and consultants.
They can help you to begin with the basics: a domain name, website hosting, an online payment system and SEO (Search Engine Optimisation), which will help buyers find your e-Store. They will guide you in creating the site's architecture, and by designing a structure that allows a friction-free path to purchase, thanks to a short Purchase Funnel to sale conversion.

Within 3-5 seconds, a visitor decides whether he will buy or not. Simplicity is key: a web that is clear, trustworthy and easy to use — with well-placed call-to-action buttons to convert him into a customer.

Effective navigation will greatly grease the wheels of your new online "Sales Machine", preventing him from getting lost and being overwhelmed by the e-Commerce shopping process.
Last, but not least: your online store should be responsive for smartphone users, so you don't lose sales because of bad user experiences.


The 2015 Launch Video for the e-Store of Chocolates Lacasa
in Spain, with key elements of a good e-Commerce presence

B. Use Proven Platforms
As you decide to set your store's design and style, you also need a strong technical foundation for your website. Depending upon the size of your product offering, many e-Commerce platforms can help you keep your current and future business growing. Without needless hassles, and in a scalable way as you grow. There are many such vendors.
To get you started, here are 4 popular platforms:



Choose your platform based on your e-Commerce size and sophistication


Prestashop: PrestaShop is a free, efficient e-Commerce solution with advanced features you need to create an online store and grow your business.
Customise your store: choose your colors, logo and a design from among a selection of professional-looking themes. Drive your business: Manage your products, orders, customer relationships, and track your statistics. Sell globally: Share your content on Social Media and easily present your store in several different languages and currencies.
Magento: Magento is an e-Commerce platform built on Open Source technology which provides online merchants with a flexible shopping cart system, as well as control over the look, content and functionality of their online store. Magento offers powerful marketing, SEO (search engine optimization), and catalog-management tools. A good choice for B2B.
Shopify: One of the easiest platforms to start with. Shopify is a cloud-based SaaS (software as a service) shopping cart solution. A monthly fee gives you access to an admin panel where you can enter store data, add products, and process orders. Additionally, you'll be able to choose from a rich selection of free and for-purchase design templates.
WooCommerce: WooCommerce is an Open Source e-Commerce plugin for WordPress. It's designed for small to large-sized online merchants using WordPress. Launched on September 27, 2011, the plugin quickly became popular for its simplicity to install and customise. In their words, it's "regular person-friendly". WooCommerce also works on all devices, since more and more people shop on smartphones.
C. Ship with Professionals
Once you've set up the store on the e-Commerce technology platform that fits your size, resources and expertise, it will be time to let the boat sail.
And that will only be possible with the help of a trusted logistical partner.
The topic is so crucial to your success that we may write more extensively on this in the future. But to end for now, let us leave you with the following tips.
Some things to consider as you choose a shipping partner
Destinations: national or international

Size and nature of your products

Your expected Average Order Size

The shipping speed you wish to offer

Tracking options for your customers

Special needs (cold shipping for food, for example)

Reputation, sustainability and climate footprint

Insurance options, etc.
You might also find this more detailed guide helpful.


Our team sincerely hopes you are finding this 4-part e-Commerce series useful. If you've just joined the conversation here, you also might want to jump back to the introductory article, which is full of valuable ideas for your strategy.
And stay tuned for 2 more posts, packed with practical tips to help you succeed!
If you'd like to know when our next installment is published, sign up here for our Strategy Alerts and you'll be one of the first to know!


---

Key Points
Remember seasonality, sales volume, pricing and size. Keep it simple.

Draw up the most detailed portrait you can of your ideal customer

Get started with the 3 pillars: store creation, tech platform and shipping


---
Read the entire series:
1: Why | 2: Build the Foundation | 3: Manage | 4: Promote
---
Written by Karamdip Kaur Sandhu, together with Paul Fleming.
Originally published on this blog on 20 May 2020.
Updates:
21 May 2020

11 June 2020

25 June 2020

03 July 2020

17 July 2020

03 December 2020
* Full disclosure: Barcelona Virtual is a Partner Agency of Selligent Marketing Cloud and Hubspot.