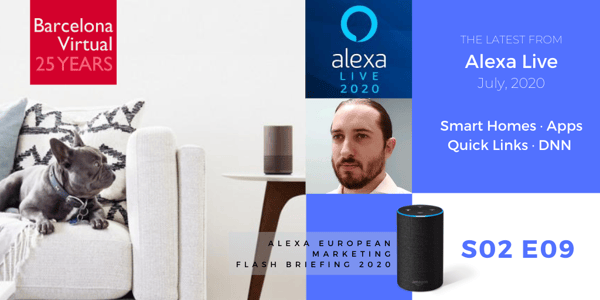 Our latest Flash Briefing gives you an important Wrap-Up of Alexa Live 2020
In this 22nd episode of our podcast, Paul and George report back from the Alexa Live conference held online — worldwide — on 22 July 2020. They are joined by Edgar Griñant, Chief Innovation Officer of Barcelona Virtual.

Deep Neural Networks that make Alexa more accurate, Contextual Conversations, Quick Links, Alexa for Apps ... and more!
And it's official: George is now the "Official Geek" (and proud of it) of our BV Voice Services Team! Be sure NOT to miss the rich array of resources just below: for Techies, Marketing professionals and CEOs, alike. Thanks for your visit.
---

You can find the podcast on all Alexa-enabled devices (click here to know how), on Spotify, Podbean, Apple Podcasts, Twitter Periscope or by means of the embedded Sound Cloud audio right below.
And don't forget to explore the valuable links, resources and videoclips of topics mentioned in this edition -- just below -- as well as the Episode Transcript here (pending).
We look forward to your feedback, at podcast@bvirtual.com!


Links
Flash Briefing S02 E09 | July 2020




PRESS COVERAGE
TECHNICAL LINKS




RECURSOS EN ESPAÑOL

---
FIND IT FAST! Check out all of the previous Flash Briefings in our handy new Directory.
---

BONUS CONTENT

---
Our Content Sponsor:
Please remember to sign up via the following link
if you'd like to be notified when we release a new episode:
---
We hope you enjoy the monthy broadcasts, hosted by Paul Fleming, together with Anna Hernández.

You can find this podcast at any time on various platforms:

By speaking to Alexa, here on the Barcelona Virtual Blog,
on Spotify, Podbean, Apple Podcasts, Twitter Periscope or at our Soundcloud profile page.


Please, don't forget to include your comments with us here on the Blog; and also to share your own examples of innovative Intelligent Marketing from Europe.
Your own project just might be featured in one of our future Flash Briefings!
We look forward to hearing from you.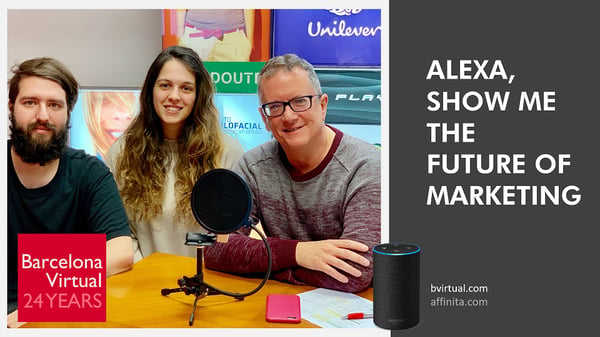 The Production Team of our European Marketing Alexa Flash Briefing: Pere, Anna and Paul

Original post published on 23 July 2020
Flash Briefing released on 23 July 2020 on Alexa devices & popular podcast platforms.
Updates:
24 July 2020
27 July 2021