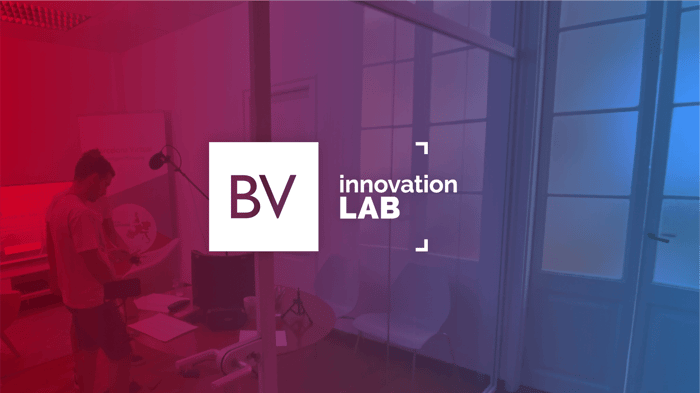 The Barcelona Virtual Innovation Lab: Testing ground for Trends, Showcase for Strategies.

★ 3 MIN READ ★
BV Innovation Lab | INTRODUCTION


Your Portal to the Future
As we edge ever so surely towards the Summer of 2023, a strange sensation can often overtake us.

All at once, we realise that we've lept forward once again. We find ourselves standing – more or less steadily – in the Third Decade of the 21st Century.
And as we all grapple with foreign-sounding words such as blockchain and bitcoin, chatGPT, generative ai, robots and ransomware, one thing is certain:
Marketing will never stop morphing. And the Future waits for no one.



Five Core Challenges
To make things even more interesting, you'll be faced with new needs, and unprecedented challenges.
Let's take a look at each one.


The Speed of Now! As the Information Age enters into warp factor, it will be more important than ever before to raise Productivity KPIs and offer relevant products faster

. Price pressures are already forcing you to optimise your Time-to-Market and to lower COGs (cost of goods).



The New Gold Rush It's currently popular to call Data "the Oil of the 21st Century". We prefer to see it as Gold: solid, dependable,

a sure foundation for your digitally transformed company

. It's already

essential to consolidate your Data in one place

, find relevant information fast and to be able to make well-informed decisions. Often, thanks to easily understood graphics.

Can You Say 'ZMOT'? In Retail and Consumer Goods, the "Zero Moment of Truth" consists of the milliseconds in which a consumer chooses your product.

In the "phygital" reality of today's New Retail

, relevance and constant testing to ensure that choice is absolutely essential.



Technophile Targets

As we never tire of saying in

Barcelona Virtual

,

knowing the Digital Lifestyle of your most profitable target

group is key to the relevance of your brands. Do they trust Voicebots? Welcome upselling based on AI? Love Tik Tok – and access your App using Biometrics?


Prescient Promotion Despite the lament that people have been "dummed down" in the last few decades, they're certainly smarter when it comes to the service and quality they demand today. And in today's info-saturated Media Matrix, it's virtually impossible to get a message to stand out – or even reach consumers at all –

without the help of AI, Predictive Media

and Marketing Automation.


A Matter of DNA
Such challenges moved us to create the Barcelona Virtual Innovation Lab, located in the very heart of the agency. The physical space is equipped to be both a Testing ground and a Showcase for the latest technology applied to Sales, Marketing, Innovation and other Business needs.
Yet, at the same time, the "Lab" is much more. It's a mindset, a natural extension of our forward-focused DNA, which constantly propels us ahead, driving us to anticipate the Future.
Our mission?

To provide each one of our clients with a clear strategic advantage:
showing them the Future in advance

helping them to understand and learn new technologies

preparing them to connect with consumers based on their Digital Lifestyle

The "BV" Innovation Lab is a powerful part of our promise to create 'Intelligent Marketing':
Data-driven and intimately connected to needs and lifestyles
of the fans and faithful users of our clients' products.
It's a strategic space, exclusively reserved for use by clients (and potential clients) of Barcelona Virtual. At the same time, it serves as an exciting Showcase for Press and Partners.
Amazon Alexa and Selligent Marketing Cloud are two of the most active Partners in the Lab. The facility is also available on a discretionary basis to select members of the Tech Barcelona hub, of which the agency is also part.
This 2021 short video shows

how we work with Selligent in the Lab.


To activate English subtitles, click on the "CC" icon that will appear with a mouse-over at the lower right part of your screen

. .

Core Services
The BV Innovation Lab is made of six Senior Specialist Teams, led by Paul Fleming, together with Lab Director and Chief Innovation Office, Edgar Griñant.
Intelligent Marketing and AI

Voice Marketing

Neuromarketing

Human Innovation

Smart Media, VR / ...





Click here for a detailed look

at each specialty.



Senior Specialists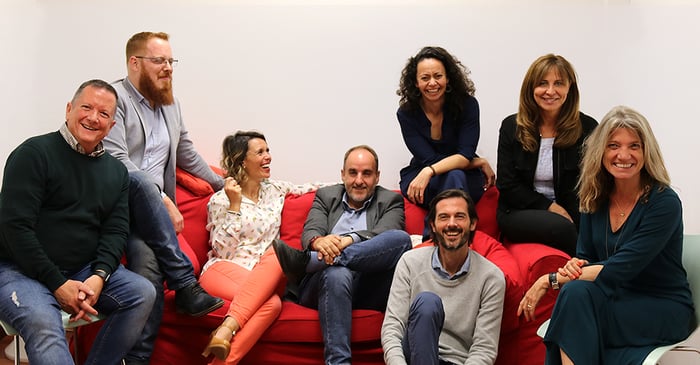 From left to right:
Paul Fleming (Voice Marketing), Iñaki Bigatà (Intelligent Marketing), Raquel Fructos (Neuromarketing), David Lahoz (Smart Media), Eva Aldea and Marc Fuentes (Human Innovation), Cristina Elson (The New Retail), and Gemma Cernuda (Feminine Marketing).

Complementary Services
Apart from the Core Services listed below, the Lab is the "home" of iniciatives designed to reach a larger, international audience of Marketers, Sales professionals, CEOs and Entrepreneurs.
These include: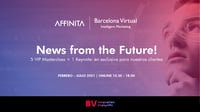 Our premium Masterclass series, 'News from the Future!', which debuted in February, 2021. Enjoy a free 30-minute sample video about Intelligent Marketing on the Lab's Landing Page.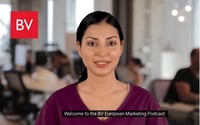 The Barcelona Virtual European Marketing Podcast,
now in its fifth year and heard worldwide, with 47 episodes about Innovation and Marketing in Europe.
Thought Leaders: the Lab's Senior Specialists often share from their expertise. In this case, Neuromarketing.

---
How to Get Started
Some ideas to help you start innovating at the Lab:
Pre-test new packaging, or your latest campaign, with Raquel in a Neuro Audit.

Book a demo with Iñaki to see how AI can help you radically improve Conversion Rates.

Come see Voice Marketing in action at the Lab, with Edgar – and Alexa.

Discover "Purpose Alignment" and learn how to motivate Millenials with Eva and Marc.

Design "Phygital" Retail with Cristina; promote it via Programmatic Media with David.

Go to the Lab
---
Originally published on this blog on 21 September 2021.
Updates:
24 September 2022

04 October 2022

24 January 2023

09 March 2023

31 May 2023