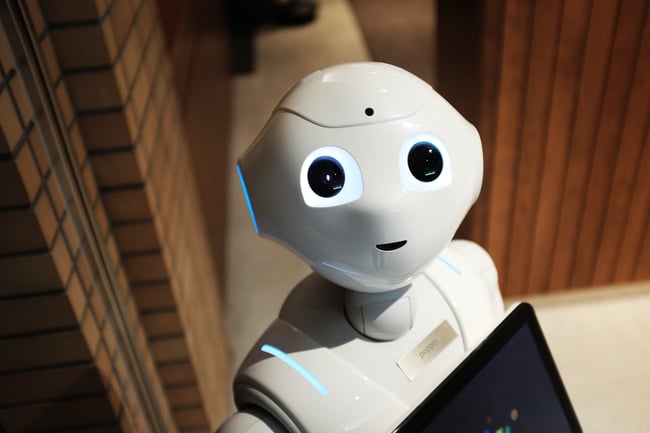 Not too cuddly, but they are cute! Yet robots aren't all there is to AI.

★ 5 MIN READ ★
Intelligent Marketing Mini-Course | PART IV
[En castellano vía Google Translate]
– A 2020 post, updated for 2023 –


---
You'll Learn
Epic Fails: Avoid costly errors and reputational damage. Learn from others' mistakes.

Priority #1: Respect your customers' privacy with non-intrusive content.

Smart Audiences: Increase campaign ROI by letting AI choose optimal segments.

STO: Improve results by activating Send-Time Optimisation with AI.
---

As we began 2020 and the exciting #ThirdDecade, we ended our 4-post series with a practical focus on Artificial Intelligence applied to Marketing. The very basis of Intelligent Marketing.
In the first three posts, we learned how to attract profitable customers and fight data fragmentation by organising and centralising our data. As we then saw in the third article, this enables us to create a more effective Content Marketing strategy, based on highly relevant, personalised products and services that truly connect with consumers.
Now it's time for AI. As you'll see, Artificial Intelligence has made Marketing more logical & precise.
It can also help your brands to stand out, as never before.

Yet, using AI to get the best results is not for beginners.
Keep reading and we'll show you how to become an AI Ninja!
1. Apple, Orwell & AI #EpicFails
Not everyone is estatic about the AI Revolution. And Hollywood knows it: movies such as Spielberg's "A.I.", Asimov-based "I, Robot", as well as popular (and disturbing) chapters of "Black Mirror" both enthral and terrify us.


Season 6 trailer for Black Mirror on Netflix (2023)

Not to mention the very "bible" of distopian futures: Orwell's "1984".
When Apple introduced the Macintosh that very year, their product promise was meant to be prophecy:
The tiny Mac would ensure that 1984 would "not be like '1984'."


In our time, Big Brother's last name is obvious: Algorithm


Now, thirty-nine years later, "Big Brother" has given way to Siri, Alexa and that nice woman on your GPS. AI no longer frightens many of us: it's amazing, engaging and incredibly helpful.

That is, until it all goes wrong!
VOICE:

The AI Assistant plays porn instead of a children's song

CHATBOTS:

Microsoft's Twitter bot turns anti-feminist and pro-Hitler

IOT*:

Alexa starts a party -- and the neighbors call the cops

ROBOTS:

A "kid-friendly" robot goes crazy and injures a young boy

ECOMMERCE:

A News broadcast triggers Alexa devices to purchase dollhouses.
Source: Entrepreneur.com Magazine

It should be painfully obvious that such mistakes can mean the end of a carefully cultivated brand image, not to mention sales and customer loyalty!
Whilst the technology is still being perfected, some AI leaders "make lemonade" out of the "lemons" of potential mistakes by making fun of themselves:


For Norway's REMA 1000, simple is often the best


Who can you call, if Alexa suddenly gets a cold?


FUN WITH CHATGPT
"What is the Meaning of Life?"
ChatGPT:
"42", a reference to the book 'The Hitchhiker's Guide to the Galaxy'.
😆
"Why is the Sky Blue?"
ChatGPT:
"Because it's sad and blue, just like your ex's heart."

😁
"What is the Best Way to Learn a New Language?"
ChatGPT:
"Go to a foreign planet and live there for a few years. It worked for me."
😜
---
BREAKING | SECURITY
Private AI Tool Keeps Personal Information Away from AI
---
2. Better ROI: Smart Audiences
As a consumer, you are most probably embracing Artificial Intelligence little by little, thanks to the ways that it enriches your life. As a Marketing professional, it shouldn't be any different.
AI will only begin to be relevant to you at work when it begins to help you improve what you most care about: results.

How might you apply AI to your Marketing campaigns?
Here are 3 ideas:
Increase sales and repeat purchases

Keep customers loyal and reduce churn

Optimise your investments in

omnichannel campaigns


The biggest problem for us all? Actually, there are two:
We are increasingly busy, harried and saturated.

We're neither scientists, programmers nor technicians.

If you do have a Data Analyst in your Marketing team, count yourself lucky!


---
Most of us do not (yet) and the task of manually calculating KPIs and ROI is so daunting, that some of us fear that one day we might die, crushed by Excel sheets!
That's why we made the strategic choice to base our own Marketing -- as well as that of our clients -- on 21st-Century platforms** capable of applying Artificial Intelligence to Marketing.
In ways that "mere mortals" can understand.
In the case of B2C, where long-term, profitable relationships with consumers is what we seek, solutions such as Selligent Marketing Cloud almost seem to offer "Harry Potter"-like possibilities, thanks to AI. One of these solutions, "Smart Audiences", allows marketers to reach consumers who will most probably purchase their products or engage with their brand.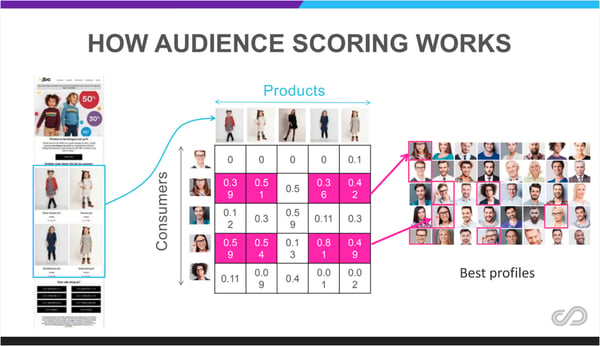 Rather than draw up segmentations based on well-intentioned Buyer Personas, advanced AI Marketers use tools such as Cortex. The ever-learning AI platform analyses the data of profiles and consumer purchases to then automatically create audiences that are intrinsically "smart".
Why? Because what these consumers are looking for -- or even celebrate as their personal "Lovemarks" -- is precisely what the communication or campaign is offering.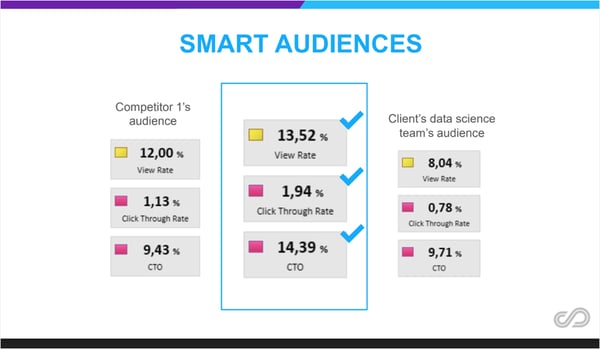 Results Made in Europe
France
Brands such as French État Pur, a skincare brand that offers top quality at radical prices, use a suite of tools such as Selligent to constantly hone their personalisation, enrich customer profiles with constant feedback and offer discounts that are increasingly relevant.
As a result, customer loyalty has been strengthened, as well as customer advocacy of their brand:
+ 5% increase in revenues

+ 45% rise in Email open rates (from 20%)

Germany
These other case studies from Europe's leading market might interest you.
In the case of Fotokasten, opening rates rose to 57%, whilst CTOs soared to between 74%-80%. Amongst the participants of their December Advent Calendar promotion, 45% were new users. Fotokasten's CRM integrated with Magento, their e-commerce platform; daily prizes, reminders and NPS use also contributed to giving them extraordinary KPIs.
Zalando, a fashion leader in 15 European markets, with a database of 20 million active customers, is also a case worth looking at. A full 70% of their business is done via Mobile.


---
LISTEN | VOICE MARKETING
European Marketing Flash Briefing S01 E05 | A Chat with Alexei Kounine: AI & Marketing
---
3. STO: Right Time, Right Place
As we clearly saw in the third post of our blog series, Content that is highly relevant to consumers is KEY.
It's what you need to attract them, convince them and keep them loyal. The more relevant your Brand is -- based on the never-ending stream of information you add to their Consumer Profiles -- the more optimised and effective will be your Marketing.
Such rich data profiles (gained transparently and ethically with consumers' permission) is the oil that greases the gears of Machine Learning! The consumer behaviour patterns, real product orders, Social Media engagement, mobile use, NPS scoring: all of this enables AI tools such as Selligent Cortex to not only propose the most profitable target groups. The software can also predict the best time to send your message, what is known as "STO": Send-Time Optimisation.
We're sure that you'll agree that even the best Content is useless, if it's sent to your customers at the wrong time.


STO -- again fueled by AI -- enables you to automatically send your emailing, SMS update or geo-fenced PUSH message at the perfect time. That moment when your Ideal Consumer is most likely to engage and ... convert.
Last, but not least: the "magic" of such Smart Data tools will even allow your Marketing Department, as small as it might be, to craft Real-Time Marketing (RTM) initiatives that will give you outstanding results.
- - - - -
We sincerely hope that you've enjoyed this series, and that these practical cases will help you to stand out as one of the leading Intelligent Marketers in your company ... and field!
We look forward to your comments here on the blog! Or feel free to drop us a line at any time, via the contact information at the Barcelona Virtual website.
---



Key Points
Epic Fails: Careful! AI can also cause costly errors and reputational damage.

Priority #1: Respect your customers' privacy, ethically and transparently.

Smart Audiences: Increase campaign ROI by letting AI choose optimal segments.

STO: Improve results with AI-driven Send-Time Optimisation and RTM.





Read the entire series:
1: Where is Wally? | 2: Fight Fragmentation | 3: Content Is King | 4: Cute Robots & AI


---

Originally published on this blog on 24 January 2020.
Updates:
11 June 2020

02 May 2023

08 June 2023
* Internet of Things, whereby multiple devices are connected to the Internet and interact, fueled by AI-related data.
** Full disclosure: Barcelona Virtual is a Partner Agency of Hubspot and Selligent Marketing Cloud.