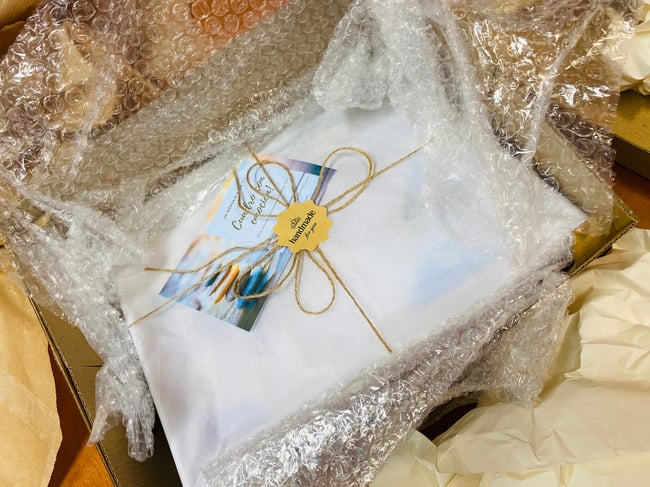 The Customer Experience of your online customers doesn't end when they click "BUY".
★ 3 MIN READ | Quick Read | E-COMMERCE ★
[In Spanish, dynamically via Google Translate]
As the famous architect Mies van der Rohe observed, "God Is in the Details".
In fact, he made those words the very ethos of his professional life.
Now that we have completed our practical e-Commerce "Mini-Course" here on the blog — as did many of you with us — we thought you might be interested in our own "Unboxing" of a product we mentioned in the final chapter.
If you've not yet read our 4-chapter blog series, we urge you to do so: it will give you a clear, concise and very practical guide for setting up your own e-Commerce Strategy. Or it might help you optimise and online store you already have.
For those of you who remember our final chapter (promoting your e-Business), we used Cucco Creations, the e-commerce project of a friend of the agency, as a relevant case study for all those also just starting out.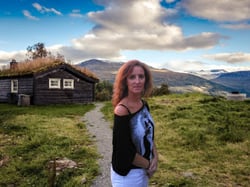 As you will quickly see, Anabel, the creator of this unique gift company, is anything but an amateur. Her creativity and strategic use of technology bode well for the future of her e-Store.

So, let's take a look at what we ordered and how it arrived.
1. The Product
Before we open the box — carefully wrapped and marked "MUY FRAGIL" — here is what we ordered.
A charming scene of a family of birds on an outing ... in a landscape fresh with a feeling of Galicia, in northwestern Spain, or even Ireland.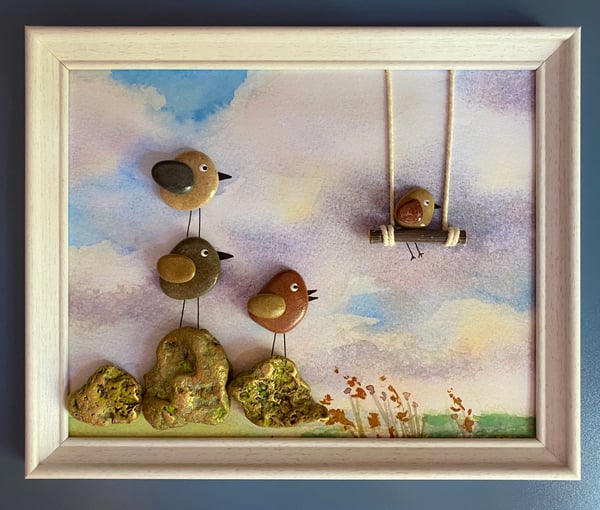 That little baby bird on a swing had us clicking in seconds!
Needless to say, this personal, artesan handiwork is fragile, so the first commandment for shipping is clear. For this, any any e-Commerce shipments, be sure to count on a shipping partner who will deliver your products with "TLC": Tender Loving Care!
2. The Unboxing
Within very few days, we received notice that our "Cucco" package had arrived. It was time for the official "Unboxing"!
This is a term that was coined to explain the activity of Social Media Influencers who make a habit out of filming the opening of product packaging and sharing it on You Tube. Not only does this reveal their "live" reaction to shipping and packaging details; they then go on to explain the contents and the relevance of each part of the product they are showcasing.
Curiously, the practice of unboxing became so prevalent among children (and even wee Influencers with swelling bank accounts), that Mattel, a giant in toy manufacturing, has taken note!

Shall we open the box?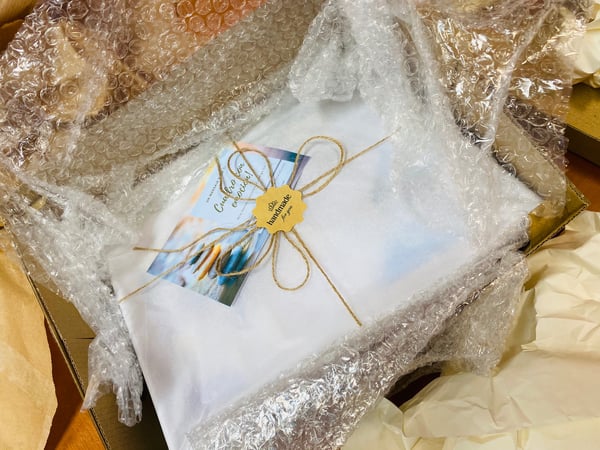 Once the brown paper and protective material was removed, we saw the product. Wrapped like a gift ... to us.
"First impressions matter!" So say both common sense, and your mother! In the case of this product, our first glimpse of the carton's contents revealed a delivery that had been carefully, even lovingly wrapped.
In fact, it looked like a present someone had sent to us, the purchasers.
So far so good, with the Customer Experience.
Let's continue now visually, as if you had been there with us ...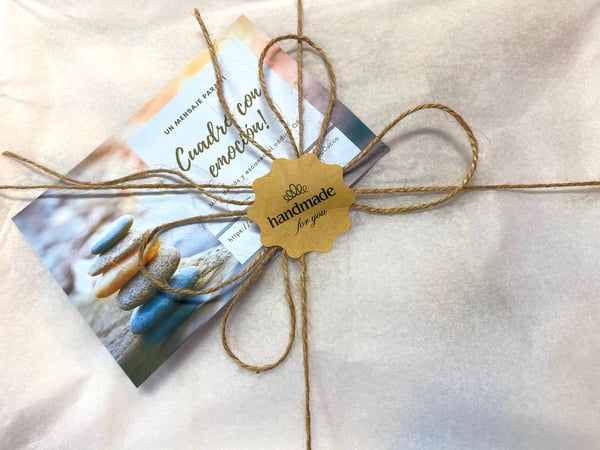 The card in Spanish reads: "A Message for You: A Picture with Emotion".
Upon closer inspection, the carefully designed card turns out to reveal much more.
3. The Surprise
Overall, the Unboxing thus far (not filmed this time, only shared with you!) has been very positive. Every step has shown us that Anabel and her team clearly care about the smallest of details.
And strangely, we do sense emotion in that box, a curious sense of anticipation, curiosity and intimacy, as we draw back the light protective foam that envelopes the picture frame. Once loosed, there we see our little friends: the cute family of birds out on their afternoon excursion together.
And then, one of our colleagues notices a detail on the card accompanying the rock painting:

It says:
Look on the back and scan the QR Code.
We first look at each other, surprised, flipping the picture frame over at once.
And, indeed, there it is: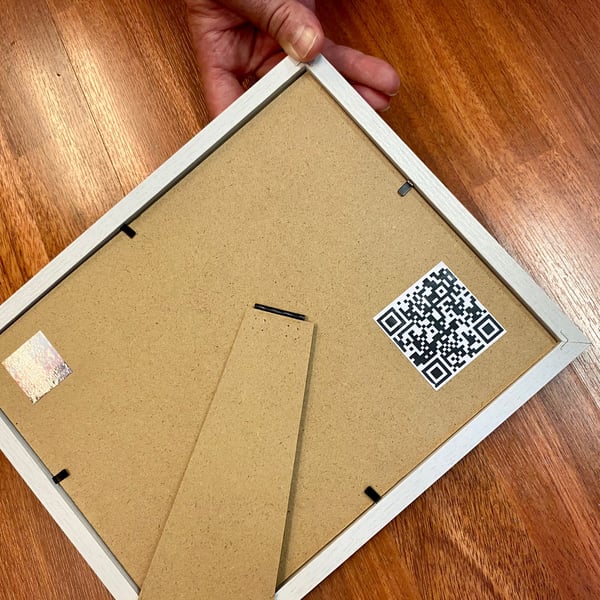 This QR-Code has nothing to do with the store in which the frame was bought, but something far better.

Our next reaction? "Who has a QR-scanning app on their phone?!
One is produced and what comes out of the phone is a personal message from Anabel herself, underscored by a very calming music, congratulating our agency team for our 25th Anniversary this year.


Would you like to hear the audio for yourself?
Just click here - you'll even get to practice your Spanish!


A complete surprise! And, undoubtedly the perfect accompaniment to a very unique and personal gift.
As Cucco explains in the video below, customers who wish to add an audio greeting to their painting simply need to send an audio recording via WhatsApp. They take care of the rest:
The video is in Spanish, yet visually shows how to attach an audio message to the purchase.
| | |
| --- | --- |
| ? | What do you think of the Customer Experience of this Unboxing? Let us know by leaving your opinion in the Comments section below! |
We hope you have enjoyed this "Virtual Unboxing" — perhaps your very first! Without a doubt, it show us clearly how very important the Customer Experience is in the final stage of an e-Commerce purchase:
A key "Moment of Truth", in which your customer will either feel satisfied, positive and even emotionally enriched ... or, sadly, disappointed by failed expectations.
(This is where swift attention to any problem by your Customer Care team would be absolutely vital.)
It's our sincere wish that you will prosper with your own e-Commerce endeavours. And we hope that this article, along with our brief Mini-Course, podcast and many other contents here on the blog will give you a competitive edge.
We look forward your next visit!


---
Other helpful resources
Sign up

for our periodic Strategy Alerts

Listen

to our Alexa European Marketing podcast

See more

about how Video can help you stand out


---
Read the entire e-Commerce series:
1: Why You Need e-Commerce | 2: Build | 3: Manage | 4: Promote
---

This original Unboxing post published on 27 July 2020.
Updates:
28 July 2020

01 December 2020