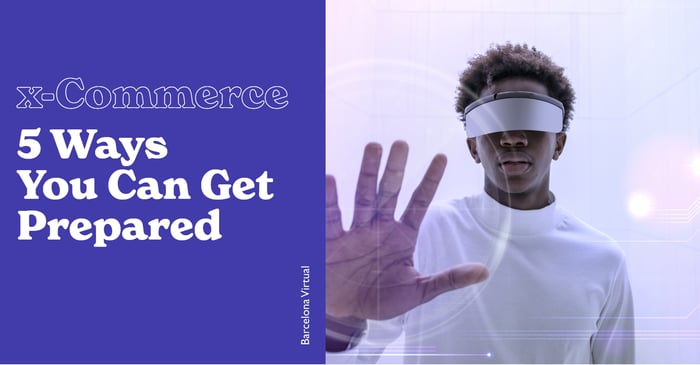 x-Commerce is not your grandpa's PC-based e-commerce! Learn how you can prepare with this practical checklist..
★
3 MIN READ
|
Quick Read | DIGITAL COMMERCE ★


You may be reading this post because you've finally convinced your CEO: it's time for your company to sell on-line! Or, you might be an e-Commerce Champion, selling full product lines for your most important Brands, breaking sales records.
Either way, when it comes to e-Commerce, just remember,
it's very much like New York:
The City that Never Sleeps.
Not only that.
As Frank Sinatra sang in his legendary song: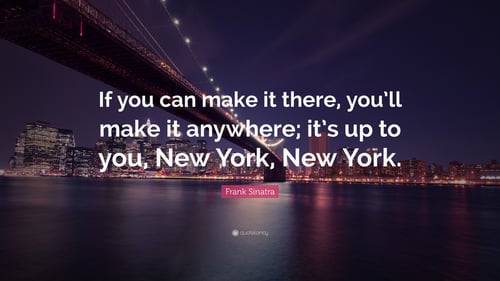 The same is true for e-Commerce, m-Commerce and especially, x-Commerce!
It's already been 20+ years since e-Commerce became a reality in our daily lives. Now, as we progress through the Third Decade of the new Millenium, online sales are responsable for billions of Euros worldwide, ever-changing and ever-morphing as the

Digital Lifestyles of 21st-Century consumers

continue to evolve.
So, say hello to your next Challenge. Say hello to x-Commerce.
What is x-Commerce?
A typical answer found via Search might read as follows:
"x-Commerce refers to selling products or services across different channels, including
e-commerce, social media, marketplaces, and brick-and-mortar stores."
Yet, that definition is flawed in many ways.
To begin with, it is focused on "Products & Platforms", the nuts-and-bolts view of how to construct an e-commerce presence. It is also highly susceptible to becoming quickly obsolete, since it neither includes nor anticipates New Tech on the horizon.
The solution? Understanding that x-Commerce is intrinsically user-centric, driven by his Digital Lifestyle (ebbing and flowing constantly), as well as her adoption of new ways of learning about new products and services. Experiencing them as Living Brands of this century and – ultimately – purchasing them.
The key question to make today is:


By

Whom

?
And not only that: How?
Followed by: Where ... When... Why ...
And so on. And so forth.
With that said – and centering ourselves in the user, the most essential factor of a digital sale – our own definition of x-Commerce is as follows:


"x-Commerce is when your most profitable customer decides to buy (WHAT) your new product

(HOW)

via her smart watch

(WHEN) at

2 AM in the morning

(WHERE)

from bed, (WHY) after hearing about the Brand's exciting launch

(CHANNEL)

on her Air Pods whilst on her Evening Run hours earlier,

(DL*)

listening to her regular podcast,

(WHO)

presented by her favourite Influencer.
Then driven to the sales conversion by

(VIP DISCOUNT)

a special code available

(FLASH SALE)

only 12 hours to (LOYALTY) members using Apple Pay (PLATFORM).

* DL = Digital Lifestyle
5 Ways to Prepare for x-Commerce
Now that we're clear about the imperative importance of a user-centric focus, let's go back to the pragmatic approach to constructing a viable and profitable x-Commerce strategy.
Here are 5 areas you'll want to cover:


Take Care of Basics To begin with, ensure that you have a user-friendly UI + UX, centered around a Mobile-First design. Your site should be fast-loading both on Desktop and Mobile to optimise conversions to sale. And – stating the obvious – user confidence should be guaranteed, thanks to secure payments. To strengthen discovery of your products, be sure to comply with all Best Practices related to SEO (Search Engine Optimisation).


Personalise Experiences The Golden Rule of Personalisation is: Know Thy Customer. The more you do, the easier it will be to offer her relevant products and services. So-called "First-Party Data" (her personal data obtained with her permission) is essential, in order to create targeted campaigns using CRM (Customer Relationship Management) platforms such as Selligent, Hubspot, Salesforce, Actito, Marketo and others.

CRM will help you to identify your most profitable customers (the 20% who create 80% of your sales), segment your Marketing according to their interests, geographic location, and DL (Digital Lifesyle). And of course, it's always a great idea to surprise your VIP customers proactively with exclusive offers and attention. AI-driven Commerce Search solutions such as Doofinder, Motive and the more advanced Empathy platform will improve the virtual shopping experience.


Integrate Sales Channels The new reality of online sales is probably one you already are experiencing: Integration of the sales experience. Whilst you might make your purchase on-line, in many cases you might pick up the package at a physical store, locker or drop-off point afterwards. This union of the Physical and Digital is forcing many companies to admit that Traditional Retail is dead.

According to Cristina Elson, Senior Specialist at the BV Innovation Lab, they are converting their sales floors into "stages" on which they are beginning to create "Phygital" presentations, Brand Experiences for customers to keep them engaged and loyal.


X-Commerce: Any Way, Anywhere, Any Time,
Any Device, Any Pay
To easily drive consumers to "brick and mortar" stores, many Brands are making increasing use of QR Codes, as well as beacons and geo-fencing to push offers to smartphones as consumers enter a given radius close to their physical stores. In the near future, Generative AI-based chatbots might help with the directions!

And since x-Commerce sales might be made anywhere at anytime with any device, it is also a very good idea to broaden your payment methods beyond credit card or Cash on Delivery. Including Paypal, Apple Pay + Google Pay, smart watches – even via biometrics – will facilitate sales and smash any anemic conversion KPIs!
Excel in Customer Service As you can see, the on-going Internet Revolution is determined to transform virtually every company and industry on the planet. One department that will not remain untouched is, without a doubt, Customer Service. Active and demanding x-Commerce consumers, many of them Gen Z'ers, simply expect fast answers and very easy ways to contact your company, They take CRM for granted and also expect that any Sales Rep "worth his salt" will have their purchase history and preferences at his fingertips.

Oh, by the way, these twenty-first century customers also expect to be able to call you at any time, day or night. To not only satisfy them, but also delight them, train tech-savvy Customer Service teams. Then, equip them with CRM dashboards and give the team the necessary freedom to make autonomous decisions, without red-tape and bureaucracy:



"Mr. Miller, we're very sorry for that shipment mistake,
so we're sending you a voucher for 50% off your next purchase.

Ms. Martínez, since you are such a valued customer
we've upgraded your reservation."


Anticipate Trends Finally, to prepare for x-Commerce and maybe even lead the way, we encourage you to #FallInLoveWithTheFuture! Keep your eyes open for new Digital Commerce trends (many already a daily reality in Asia) such as Flash Sales events with Virtual KOL Influencers, Social Shopping, Voice Search and Voice Commerce, and Immersive AR / VR Shopping.

Just around the corner: a broadening of cashier-less supermarkets such as Amazon Go (despite the current temporary fine-tuning), as well as the mainstream adoption of Web3, Crypto currencies and Blockchain commerce.

To cite just a couple of examples:

Domino's Pizza AnyWare

Already in 2017, Domino's Pizza won the Mobile Grand Prix at Cannes Lions for its AnyWare campaign. The campaign allowed customers to order pizza using any device or platform, including smart watches, voice assistants, and social media platforms. The campaign resulted in a 28% increase in online sales for Domino's.



Alibaba's Singles Day

Alibaba's annual Singles Day shopping festival is one of the largest digital sales events in the world. In 2020, the event generated a record-breaking $74.1 billion in turnover. The event features a wide range of promotions, discounts, and Live-Stream shopping events to attract customers.

So: what do you think?
Ready for the Future? Ready for x-Commerce?
---
What about your company?
Do you pass the Digital Lifestyle test?
This article was originally published on the blog on

10 May 2023

.
11/12 May 2023

12/13 July 2023

Full disclosure:
Barcelona Virtual works actively with Hubspot, Selligent, Salesforce, Actito and Motive.
Credits:
Minority Report
,
©
Copyright 2002, Twentieth Century Fox