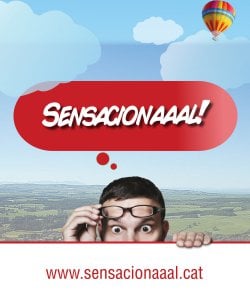 We always love to show our clients in their very best light,
but this time we wanted to go further.
Our goal is to make the public foundation run by Spanish savings bank Caixa Sabadell look simply sensational, in a new campaign that will be launched online 1 July 2009.
In a word, it's just SENSACIONAAAL...!
which is best said and understood if you add a thick Catalan accent to the pronunciation of the campaign's theme, which aims to communicate how dynamic the Foundation's free public activities are.
In addition, by offering a draw of free hot-air balloon trips over Catalonia, the "Obra Social" of Caixa Sabadell hopes to enrich its data base and get to know its users even better.