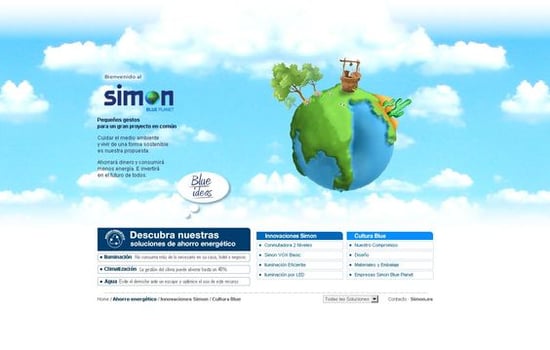 If you thought that eco-friendly New Brands are all green, think again!
Barcelona Virtual has just launched Simon Blue Planet, a web dedicated to presenting the innovative solutions offered by the Spanish multinational for energy savings, and in which the company's commitment to the environment is clearly communicated.
The site, whose strategy, naming and image was developed by the agency in close collaboration with Simon's Marketing Department, helps users to discover leading products for energy saving in lighting, climate control and water use, for home use as well as in the workplace.
In addition, the "Cultura Blue" (Blue Culture) of Simon commits the company to sustainability in all areas of the enterprise: as part of its company culture, in the design and choice of materials of its products, all of which is shown by the specialised companies now grouped under the new brand "Simon Blue Planet" (Simon, Simon Connect, Simon Lighting, Simon Tech and Lightled).