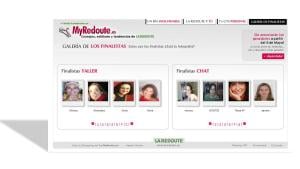 We're feeling very "fashion" lately!
Why? We've recently activated the new microsite "MyRedoute.es", our first step in a long-term online Marketing strategy of the French multinational "La Redoute". The brand, owned by the well-known Redcats Group, is a true pioneer in catalogue fashion sales - and now, via the Internet.
The goal of the new microsite is to employ "1 to 1 Marketing" strategies in order to augment the brand's presence in the Spanish market.
We think the best way to do so is to spoil the heck out of their customers!
For beginners, the promotion currently online offers a free image session with a Personal Stylists, compliments of La Redoute. Organized with their partner "Qué me pongo", the lucky winners will be able to participate in hands-on sessions in several Spanish cities.
But the fun doesn't stop there: the other prize is to have an exclusive and personal conversation online via chat with one of the same fashion experts of "Qué me pongo", so that they might make the most of each individual look - with the latest trends from La Redoute and the savoir-faire of real Personal Stylists.
The site also includes a Making-Of video of similar sessions held with Spanish fans of La Redoute in Madrid and Barcelona.
Like a few personal fashion tips? ;-)
www.myredoute.es