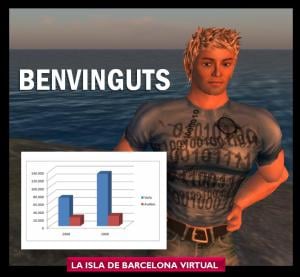 Those in the Press and within Advertising who are overzealous in their criticisms of Virtual 3D Worlds, and of Second Life in particular, will soon have to bite their tongues.
Their grounds for rejecting investments in Second Life and similar immersive spaces just don't hold up when one takes a look at real numbers from real sites that use such platforms correctly.
Take our own site, for example. Since launching the Island of Barcelona Virtual in Second Life in mid-2007, the site has grown to be a leading Second Life brand for the Spanish speaking user population.
This fact is borne out by the numbers. In the first six months of 2009, traffic to our Island jumped 85% when compared to the year before, logging 133,195 visits*, compared to 72,079 registered during the same period in 2008 in the comparative report.
The number of unique users also increased (18%) to 26,186 avatars* during the first Semester of '09, a solid gain from the 22,198 users logged during the first part of last year.
The comparative report gets even more interesting when we track numbers related to Brand Loyalty and Community strength:
DAILY VISITS JUMP 85%
from 396 a day to 736
DAILY USERS increase almost 20%
from 122 unique users/day in 2008 to 145 avatars daily.
STICKINESS AND LOYALTY metrics also rise,
reflected in an average of 5 visits a day per avatar, compared with 3,25 a year ago.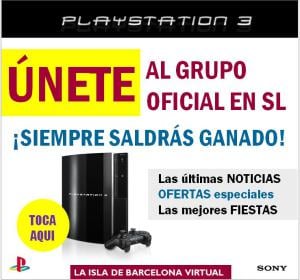 Without a doubt, this loyalty to the Island of Barcelona Virtual is due to a constant focus on the part of the Island's team on Community-Building through Live DJ events, personal attention to individual needs and successful campaigns in-world for Universal Pictures, Obra Social Caixa Sabadell, Sony PlayStation, Sunny Delight and other "New Brands".
Isn't it time we talked together about getting you started in 3D Worlds?
* IMPORTANT NOTE The comparative data excludes the first 25 days of January, since we began tracking metrics beginning on 26 January 2008. Hence, the full data for 2009 is even higher: 151,266 visits and 31,695 unique users.