We have spoken many times on this blog about the merits of knowing your company's "DNA". Not only does it help guide your team, thanks to a common language and mission. It also creates a "fresh" voice for your New Brand, one that transmits authenticity and confidence to your customers.
As many of you will remember from Paul Fleming's classes on Social Media strategies, New Brands understand that "Markets are Conversations", as the Cluetrain Manifesto teaches us. And those Brands who consistently communicate one message, with a unique and compelling "accent", are those most destined to prosper in today's networked economy.
This morning, we received the following e-mail, newsletter... bulletin: we actually don't know just what to call it! All we know is that it transmits the DNA of Spain's Veritas ecological supermarkets in a fresh, relevant way: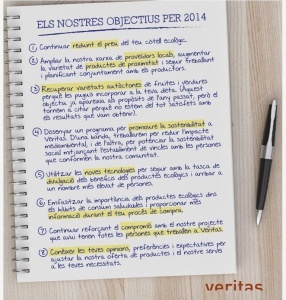 Titled "Our Objectives for 2014", the Catalan text lists 8 areas the company wants to excel in this year.
Using the format of a brainstorming notebook and pen, Veritas wishes to convince customers that they share their concern and interest in ecological products and causes.
To be their trusted "Lovemark".
And most of all: that they are close to the customer, with products, services and communication that is "100% Cluetrain":
transparent, natural, and human
You don't need to know Catalan to "note" the difference. Veritas, it seems, has a voice as fresh and authentic as their fruits and vegetables.