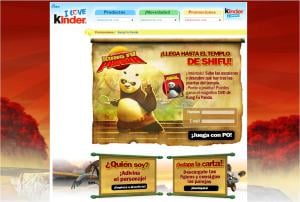 As many already know, an effective means of connecting younger consumers with a New Brand is simply by playing together. The experience creates an emotional connection, while at the same time elevating the number of minutes spent on the Brand's site, within its online context and promise.
This is exactly what Kinder (Ferrero Ibérica) aims to do in a new interactive game launched yesterday, created by Barcelona Virtual. In a promotion valid in Spain and Portugal, lucky players who make it up the stairs to a mysterious temple might be elegible to win one of the hundreds of DVDs of Kung Fu Panda (Dreamworks) that will be given away in the daily draw, which will run until the end of the year.
The campaign is being supported by E-mail Marketing,
as well as off-line media.
Feel like trying your luck? ;-)