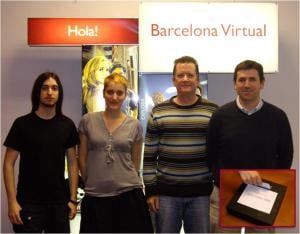 Last week, Barcelona Virtual celebrated its 14th birthday, an event we decided to toast in a different way.
Of course there were congratulations, cake and cava... yet beyond that, we decided to listen more closely to our own staff as we now enter the agency's fifteenth year in a highly competitive and changing market.
To that end, the current management team made up of Paul Fleming and Josep Torra, decided to "resign" for a week and hand the reins of power and decision-making over to our own team.
"Free and fair elections" were held in the agency this week, in order to fill the positions of President and GM. The results were surprising:
Our intern in the Art Department, Pilar Giménez, was elected General Manager, whilst the position of President went to veteran staff member Edgar Griñant from the technical department.
Both new managers had one week to lead a series of meetings with the team, in order to seek out ways to innovate and "grow the agency". The proposals that they presented in the name of the entire agency staff are not only practical, but visionary. We´re looking forward to implementing many of them in the coming year.

Hats off to the New Management!