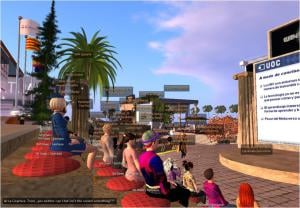 The IX Innovation Forum of the Universitat Oberta de Catalunya (UOC), held today on the Island of Barcelona Virtual in Second Life, was an appropriate showcase for new information for marketers.
In his speech "3 Things Every Marketing Manager Should Know About 3D Immersive Spaces", Paul Fleming revealed interesting, recent data on consumer behaviour in Second Life.
Citing from the study Real Life Brands in Second Life, Q3 2008, published by Market Truths in November of last year, he underlined the great influence held by so-called "WOM" users, those who engage in active Word of Mouth recommendations.
According to Market Truths, a full 62% of users in Second Life have recommended a real life (RL) product to someone else in Second Life (SL).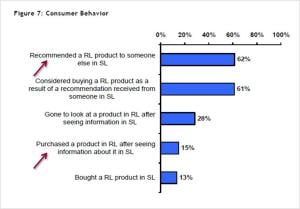 © Copyright 2008 Market Truths Limited. All rights reserved
Furthermore, another 61% had actually considered buying a RL product as a result of a recommendation they received from another avatar in the 3D space.
Does this generate "Real Life Sales"? Absolutely.
One of the virtues we never tire of extolling here at Barcelona Virtual is the complete integration of SL and other 3D platforms with the Internet. This makes a "click-to-web" process possible that brings an avatar who clicks on an ad or infocube directly to the web of the advertiser, or even to a specific product page on an e-commerce site.
According to the same report, this is reflected in more relevant data:
- 28% of users in Second Life have gone to look at a product in the "real world" after seeing information in SL
- 15% actually purchased a product outside of Second Life after seeing information on it in-world
- And the even more advanced types of users bought RL products whilst inside of Second Life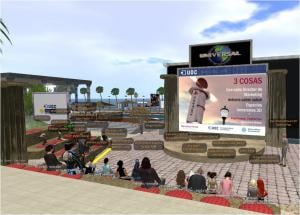 It's time for marketers to turn a deaf ear to ill-informed journalists and others who do not understand the power of Immersive 3D Spaces.
The ROI and the results are beginning to speak for themselves.