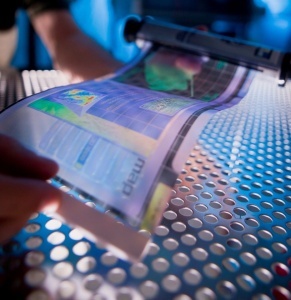 Paul Fleming, founder of Barcelona Virtual, recently spoke with Germán Sierra of the Universitat Oberta de Catalunya about innovation, 3D Virtual Worlds, Electronic Paper and Holograms.
Shall we listen in?
Facebook has just launched an application for Infojobs, Twitter is on many people's lips when describing how they found work after being unemployed for a time, and you at Barcelona Virtual are committed to the virtual world to generate added value for the company.

Are social networks and interaction on the internet fundamental for any company?
PF: The strategy to pursue in terms of digital marketing has to tailor itself to the needs of the target group in each company. When they have customers made up of urban or young professionals from the digital generation, the use of social networks is unavoidable.
In other cases (family SMEs, for example), it may be more effective in terms of ROI (Return on Investment) to go for an integrated "On+Off" strategy, using a combination of traditional means, personal contact and the Internet.
Do you think there is a distrust of virtual worlds or simply ignorance?
PF: That's the sixty-four million-dollar question, as for agencies and entrepreneurs, the answer determines whether they will sell or not.
Any new technology is a new habit to understand, learn and adopt. The speed of today's changes frightens anyone who wasn't born a "digital native", which translates into passive ignorance (inertia) or even active ignorance (distrust). The distrusting ones are those who see a threat in these changes, or who simply shut down due to information saturation.
In our 15 years as a digital agency, I've learnt to wait the time it takes for a new technology to be understood and become part of the fabric of everyday life.
What do you think of the news that practically wrote off Second Life?
PF: They've made me see the great importance of the media of the "Matrix" of the twenty-first century. Something that is not analysed and disseminated in the media, no matter how valuable, simply does not exist. There is an imperative need to educate journalists, to explain very well to them the significance and application of the new technologies in terms that they can take in, and consequently communicate.
The perception of the "death of Second Life" is proof of this. Second Life has done nothing but grow and improve since it burst on the scene as the media "favourite" in 2007. There are specific data of real cases that show its huge usefulness to universities and business. However, we at the forefront of 3D Virtual Worlds have to fight a great deal against ignorance. The majority of people who criticise Second Life are like the ones who talk negatively about a film without having seen it.
Do you think, then, that this prevailing lack of knowledge of Second Life has been a drawback in attracting new users and evolving more quickly?
PF: It is, in any event, a lack of knowledge that doesn't frighten me, because I still remember very well the years of struggling, for example in 1995, when we insisted with the press and business that the internet wasn't just a fashion but that it was going to change everything. In those days, there were only 296,000 web surfers in Spain and the technical barriers were significant.
For this reason, in terms of the integration of Second Life and other 3D Virtual Worlds in the strategies of companies and brands, let's just say that I have learned a patience based on this experience with the web. Its time will come, when there is a critical mass of users and more technical improvements. Then, the demand for experts in "Experiential Marketing" with the experience that we've accumulated over recent years will grow – and be valued – as is due.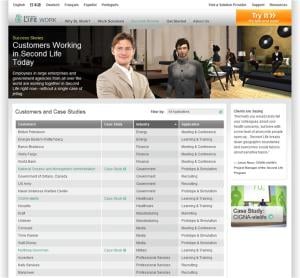 Barcelona Virtual goes back to 1995, but you opened offices in Second Life in 2007. Why did you take this decision?
PF: We are virtual and restless. I personally have "the gift or failing" of living always some 2 or 3 years in the future. There are issues such as wireless e-paper, 3D virtual spaces and holography that I take completely for granted and I long for the day when they start to figure more in our everyday life.
The decision to be the first Spanish advertising agency with offices in Second Life was born of this restlessness and desire to be always at the forefront. We also wanted to get in early to learn and experiment with these new codes and languages of communication and relation.
And it hasn't gone badly, as your traffic rose by 85% compared with last year. How did you get people to hear about you?
PF: That's right: last year, we had 214,000 visits to the Barcelona Virtual Island in a year when many reckoned that Second Life had died out.
The secret behind the 85% rise is simple. You have to create a community: paying a great deal of attention to the details and creating contents and activities that your online community likes. You have to put in hours, nurture the users, place a lot of emphasis on the relationship. Many companies that started on Second Life and failed did so because they didn't understand the commitment to the user that exists the moment you open your doors.
What is the profile of the companies that have contacted you to work in a virtual world?
PF: There are big leisure and entertainment brands like Universal Pictures and Sony PlayStation®, whose target publics are found in these online 3D environments. Added to this sort of company are FMCG companies like Sunny Delight. Curiously, we've also been able to help financial institutions such as the Foundation of Caixa Sabadell and Banco Sabadell (creating the Leo Messi avatar) to establish themselves on Second Life. They know that they have to evolve and experiment to continue to be relevant.
Finally, it is evident that universities, with their vocation as knowledge and innovation catalyser in society, cannot get left behind. In this sense, we've had the pleasure of working with the IE Business School and, more recently, with the UOC itself.
Video of the successful launch of PlayStation® Home
on the Island of Barcelona Virtual in Second Life
Saving on costs for training, on travelling to meetings, Second Life could be considered by many companies with employees spread all over the world to be a low-cost forum. What other functions does it have?
PF: Absolutely: telematic meetings offer these advantages, huge savings in training, travel and accommodation costs.
This year, to give an example, Intel saved 265,000 dollars in costs of this type by organising its conference on Second Life. And not just that: bringing together a multinational team from various branches and countries in a telematic space is a "greener" option, as it reduces Co2 emissions. For its part, teaching is strongly committed to the use of spaces like Second Life because they are ideal for experimentation, role play situations, therapies with people with physical disabilities and prototype development.
Would you recommend interaction in a virtual world to every company or do you think it can only be successful in certain sectors?
PF: I believe that the majority of multinational companies can benefit from the advantages of 3D immersive spaces, especially those whose internal culture is very digital. In the case of the more "traditional" companies, I would only recommend it for those that are capable of adopting the new mentality of "borderless offices" and whose managers support the initiative.

Can you describe some of the advantages that may make virtual worlds a future commitment for companies.
PF: The company that works in the virtual world gains a more modern and innovative image to the outside world, internal revitalisation with its own employees and their day-to-day motivation, besides better and greater knowledge management thanks to the breaking down of internal bureaucracies that hinder the flow of information.
In addition, it can establish a stronger, more lasting connection with the New Consumer of the twenty-first century. It also grows in terms of brand affinity and tangible support for sales since 15% of Second Life users have bought a product in real life thanks to information that they've seen "inside" the virtual world and a further 62% have recommended real products to other avatars.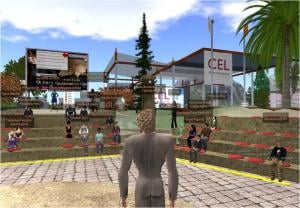 You have your own e-Learning centre. What were your expectations when you designed it?
PF: With our "CEL" (e-Learning Centre), we want to offer the option of telematic meetings and their corresponding cost savings to our clients, besides providing added value to the Barcelona Virtual Island Community, where we hold all sorts of courses. I would also point out that we want to carry on experimenting, along with partners such as the UOC, with the e-Learning project in itself.
Any predictions about what may happen in the future? Will companies take a punt on virtual worlds?
PF: The issue of avatars and their 3D Virtual Worlds invaded popular culture some time ago. We have our alter egos in Second Life, Habbo Hotel, World of Warcraft and PlayStation Home, but also in Wii, Messenger and our mobiles.
CINESA cinemas are being fitted out digitally with 3D features to exploit a new film genre. December of this year sees the premiere of "Avatar", a film by James Cameron that has revolutionised the movies. All we need is for the internal culture of companies to understand and value everything that 3D Virtual Worlds can offer.
When this happens – and it will happen – a very strong demand for these services and for professionals and teachers capable of conveying this new knowledge will be unleashed. Beyond this, I predict the fusion of holography with the Metaverse. In other words, I believe that from the middle of the next decade it will become common to hold meetings where we press a button and find the avatars of the people we're talking to in a 3D holographic virtual space in front of our very eyes.