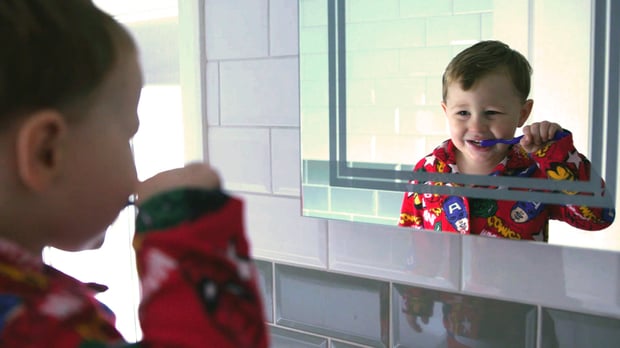 Photo: Hafod Hardware
Every year, Christmas is "the holiday" in the United Kingdom and the Republic of Ireland, with Brands competing to come up with the most original, creative adverts. The instant connection and emotional responses they create make many of these pieces legendary works of art, known the world over.

We had such an enthusiastic response from last year's post on the Best Christmas Ads (many from the UK), that we decided this year to dedicate a single post just to that special blend of British (and Irish) Storytelling that is so human -- and unforgettable.



We hope you enjoy our selection!
1. Be a Kid This Christmas




Hafod Hardware, a small independent Welsh store in the UK has made a very sweet advert focusing on the fact that small business are dying without the help from the locals.
Helping them as shoppers "rush home with their treasures", foresaking international conglomerates and ecommerce, would be the best Yuletide gift to many family-owned companies.

The ad -- considered by many to be the best of 2019 -- was made on a shoestring budget, yet has already attracted more than 2.5 million viewers.
Because life is often hard, we tend to forget the child within us. This pieces reminds us to remember him or her and see Christmas with eyes of wonder.


2. Delivering

Christmas

"Delivering Christmas for 100 years" is what Tesco celebrates in this year's Christmas message.
The advert, created by BBH London, is one in which the delivery van plays a major role, as it passes through time when struck by a falling Christmas light.

The 100-Year Journey is a fine piece of Centenary Marketing, featuring important highlights from the Past.
The key point of faithfully and efficiently "bringing Christmas home" brings a smile to many fans of Tesco, whose 21st-Century journeys now go far beyond the limitations of a century ago.
3. An Irish Classic

This much-loved 2011 piece from Ireland is the one exception in our selection of this year's best holiday ads. As one You Tube fan puts it: "Christmas officially starts for me when I first see this advert."
It's not hard to understand why.
The Visual Storytelling is a sensory and emotional poem, a tribute with emblematic scenes and aspects of Irish identity.
Not only understood by Guinness consumers, but by all who -- like us -- love the Emerald Isle.
4. Adopt a Better Future

WWF has tried to put a very serious topic in the advert, sure to grab the attention of a climate-change sensitised audience this Christmas. Not only Greta Thunberg ;-)
As the years pass, the global environment is becoming an urgent topic to discuss and using this concept for a season like Christmas is a very smart move. Especially in light of the disappointing progress made at the United Nations COP25 Conference in Madrid.
As Karamdip, our International Sales & Marketing Specialist from India observes:
"Saving the environment and animals would be the best Christmas gift to Mother Nature!"
5. The Singing Box

British agency Lucky Generals is in demand, after another "best ad" on their list for Amazon.
This time, to the tune of preacher and singer Solomon Burke, whose "Everybody Needs Somebody to Love" is an upbeat accompaniment to a shopping experience Amazon hopes to make human and joyful.

The best part of the advert is where the famed Amazon logo "swoosh" morphs into a huge smile, in order to sing the song. A cute, surprising twist that makes the Brand even more memorable.
6. Reindeer Ready

"Archie the Reindeer": the ad, created by Leo Burnett London, continues last year's #ReindeerReady campaign to show the power of imagination.
Ellie asks her elder sister to play "reindeers" with her, but her lack of interest disappoints the little girl.
Crestfallen, she goes to the garden and is surprised by Archie the Reindeer, with whom she begins to play. When she "runs out of reindeer treats", the whole family drives to McDonalds to pick up a late-night "Reindeer Order".
The sudden transformation from REEL to REAL has touched many frazzled parents and made them "Reindeer Ready" as well.

7. Forgotten Santa Claus

Grab a tissue! We're still teared-up.
We end with an emotional piece by #BenandAndy billed as the "Alternative John Lewis Advert", underscored (pardon the pun) by the direct and challenging lyrics of Kyle Martin and Lee Tuck.
In the mobile-driven, self-absorbed digitalised society in which we live, even Father Christmas (!) is often ignored, uncared for and unseen.
Let's now let the powerful message of this British masterpiece work its magic on your own holidays.
We're grateful that you follow us here on the Barcelona Virtual Blog, with very special thanks to all of our client friends for their ongoing confidence in the agency. We wish you all a very, very
Happy Christmas!


---

Do you have a favourite European Christmas spot this year?

Please share the link with us all in the COMMENTS section below.
2019 European Christmas Adverts That Are Making People Say WOW!

2018 Christmas Adverts: Combine Intelligence With Emotion To Truly Connect