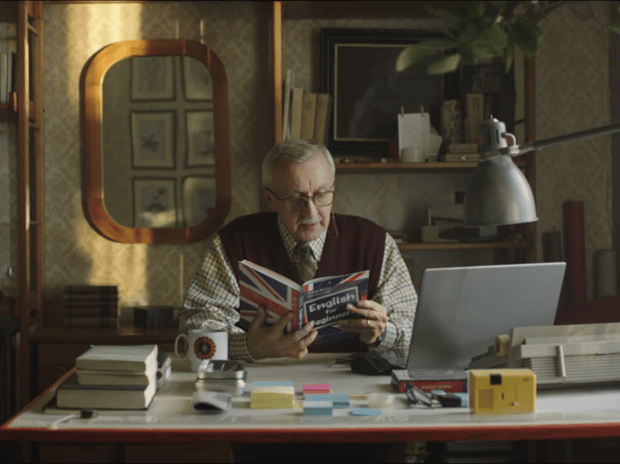 Photo: Allegro
It's beginning to look a lot like Christmas.
This means only one thing for Brands and Retailers: it's the perfect moment to get closer to their customers.
During the Holiday Season, truly memorable adverts show us less "product oriented" messages. Instead, savvy Brands understand that December is a unique month to showcase their best creativity and strategies.
By appealing to the emotions they craft an intimate feeling of belonging, helping them to achieve Top of Mind awareness. Leading Brands spare no effort, time nor money to capture their audience's attention with commercials that for many are true traditions.
An essential part of the holidays they look forward to, each and every year.

So, drumroll please...
It's time for the Best European Christmas Ads* of 2019!
* The videos are either in English or with English subtitles. Be sure to activate captions by clicking on the CC button / the gear icon for settings (lower right corner onYou Tube) if you don't see the English subtitles appear.


1. POLAND: English for Beginners

Allegro has made one of the best ads that we have seen for a long time, creativity "Made in Poland" by Warsaw-based agency Bardzo.
This short story conveys a very important message: the connection between a simple thing bought online and its "Backstory". What it can actually mean to someone.
An elderly man is making very special preparations for this Christmas which intrigue the audience, keeping their interest high.
A very sweet moment at the end puts a happy smile on everyone's face.
Wesołych Świąt!

2. UK: Silence the Critics

IKEA's 2019 Christmas advert in the United Kingdom deliberately focuses on the phenomenon of "home shame": possible reasons for holding you back from opening doors to people during the holidays.
The advert starts with a scene of a family of three living in a small flat; the next moment, her phone flashes a message from her friend about the dinner party. "Is it still on?" We see her hesitant about replying, after seeing the state of her apartment.
Now the Fun begins.
All of sudden, something magical happens: the song by D Double E in which they taunt the family is so powerful that it moves them take action to "Silence The Critics". An ingenious ad that is a clever mix o Marketing strategy to capture new consumers by pointing out needs they keep ignoring and putting off for later.
We don't need a hammer to say it: this year IKEA nailed it!

3. ITALY: For Christmas Grumps

Now, let's look toward the Mediterranean, for more innovation from IKEA Italia.
From the first moment, the audience targeted this year is clear: a grumpy older man many of us just might know! This modern-day holiday "Scrooge" seems to be very hard towards life, yet his neighbor is not okay with seeing him so negative. Especially at Christmas! He therefore decides to bring happiness to his door, even if it is forcefully done.

This little gem will make you laugh, even if you don't want to.
Por favore: no grumpiness this Christmas. Buon Natale!
4. UK: Edgar the Dragon

John Lewis and Waitrose come together for the first time this Christmas. The ad, created by the legendary agency adam&eveDDB, has left audiences awestruck.
Edgar the Dragon is overwhelmed with joy by the holidays: so much so, that he's not able to contain his excitement. His happy exclamations shoot out fire, which unfortunately keeps ruining the Christmas preparations.

In fear, Edgar shuts himself inside to let villagers enjoy their feasting. However, his friend Ava isn't willing to give up on him. She finds a unique way of turning his weakness into a gift for her town. Christmas is all about making loved ones feel special by any means and this is portrayed in a very beautiful way. Happy Christmas!

Fancy watching more UK Christmas Adverts? Enjoy our special selection.

5. SPAIN: Kevin the Carrot

ALDI's contribution for Christmas 2019 is one of the top performing adverts here in Spain, catching mucha atención with its fun, playful concept based on all-important holiday family meals.
We see that everyone's very happy to see Kevin back, since he was missing for a very long time. The faceoff between him, Leafy Blinder and a new enemy, Russell Sprout, has gone to the next level.
Quite simply, Kevin and his family are stealing the show as stars in the Christmas Show.

The result? ALDI fans in Spain are delighted to see Kevin back, spreading festive cheer among the people. ¡Feliz Navidad!
6. GERMANY: The Good in You
The 2019 video is unfortunately no longer on Youtube; yet the 2015 Star Wars spot is also sweet

Kaufland has conveyed a very straightforward message about having good and bad coexist in us in this interesting, Star Wars themed commercial. Sometimes we become weak and take actions which we should not; thankfully "The Good in Us" often helps us change course and make good decisions.
Good deeds which -- in some way or the other -- are always rewarded.
So remember: stay on the good side of The Force. Frohe Weihnachten!
7. FRANCE: Sharing Really Matters

Bouygues Telecom brings us a tender message about the importance of sharing with this advert.
A father tries to get know the wishes his daughter has on her Christmas List. The heartwarming story shows the importance of family, and the very inventive ways we can share with our loved ones.
Be prepared to smile with this one: Joyeux Noël !


Sharing is Caring this Christmas!




---

Do you have a favourite European Christmas spot this year?

Please share the link with us all in the COMMENTS section below.
2019 Christmas Adverts From The UK (and Ireland) To Warm Your Heart
2018 Christmas Adverts: Combine Intelligence With Emotion To Truly Connect