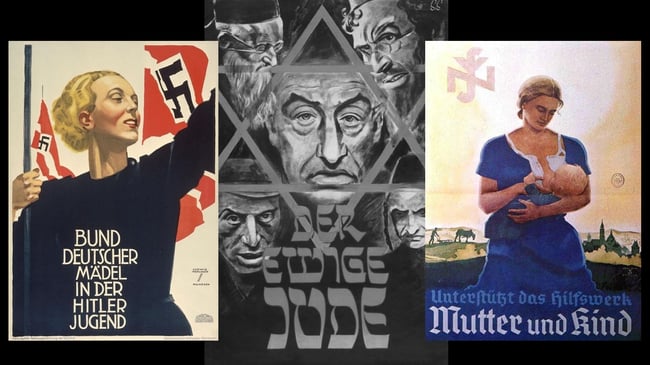 Pens and Brushes for The Führer: Creative Professionals paved the way to WWII & the Holocaust.

---
You'll Learn
The global summit in Madrid on Climate Change (COP25) is a turning point in history.

Professionals in Advertising, Marketing, Design, Press and Cinema have immense influence.

Adolf Hitler's rise and the Holocaust would not have been possible without their support.

#TimeForAction: As Marketing professionals, we can contribute to solving the climate crisis.
---

There is a strange sense of déjà-vu for some of us in Advertising and Marketing. Humanity stands at the threshold, poised to take decisions that will alter the fate of the planet and affect the lives of billions of people. For Good. Or for Evil.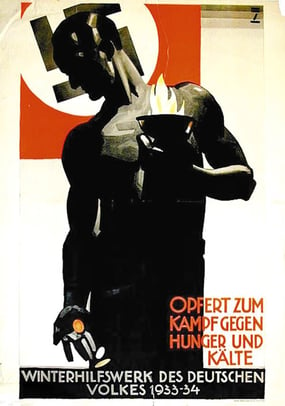 Somehow -- deep inside -- many of us know that we are called to play a role, to make a change.
If it seems like we've been here before, it's because we have. In the waning years of the Weimar Republic, German graphic artists, typographers, copywriters, designers and cineastes stood at the forefront of Communication Arts.

Such was the clear-eyed, transcendent power of their creations that they were able to mobilise millions. Yet, not just to sell products.
Their pens and brushes for the Führer paved the way for a faux Messiah -- and a horrific descent into the abyss.
Poster: Ludwig Hohlwein, Munich 1933

1. #TimeForAction
In December of 2015 in France, 197 countries signed the Paris Agreement on Climate Change, pledging themselves to concrete action in order to avoid a plantetary catastrophe.
Today in Madrid, the twenty-fifth "Conference of the Parties" (COP25) begins, four years since that ground-breaking meeting. As we stand at the door of the third decade, there is a palpable sense of urgency. Since Paris, massive changes in global weather have been registered, causing natural disasters, untold human suffering and the loss of billions and billions of Euros.

As Wired magazine reports:
Human-caused climate change has already been proven to increase the risk of floods and extreme rainfall, heatwaves and wildfires with implications for humans, animals and the environment.
Why COP25 in Madrid Is Urgent
The

Paris Agreement

focuses on keeping the global temperature rise in this century to well below two degrees Celsius above pre-industrial levels – ideally to 1.5 degrees Celsius – to avoid "severe, widespread and irreversible" climate change effects.

But, if current trends continue, the world is likely to pass the 1.5 degrees Celsius mark between 2030 and 2052 unless it finds a way to reach net zero emissions. [

Sabrina Weiss

]


According to the last edition of the WWF's

Living Planet Report

in 2018, "wildlife populations
have fallen 60% in just over 40 years." [

PDF download

]


The planet is losing forested areas -- mostly tropical -- as large as the United Kingdom. Every year. Experts say that the trend has increased rapidly in the past five years "despite pledges made by governments in 2014 to reverse deforestation and restore trees." [

The Guardian

]
Signs of Hope
Antonio Guterrez, UN General-Secretary, has called the last ten years "the lost decade", where little true progress was made. However, he also points to signs of hope:
In 2017, China invested $126 billion in renewable energy, +30 per cent on the previous year.

Sweden is set to hit its 2030 target for renewable energy this year: 12 years early.

By 2030, wind and solar energy could power more than a third of Europe.

Morocco is building a solar farm the size of Paris. It will power more than 1M homes by 2020 with clean, affordable energy.

Scotland has opened the world's first floating wind farm.

Even with these positive developments, Guterrez says, it's time to stop talking. His words have become the official hashtag for the Madrid summit: It's #TimeForAction now.
2. The Pied Piper of the Holocaust
A popular childrens' fable, The Pied Piper of Hamelin, tells the story of a man who played a magical pipe with a melody so alluring, that he could seduce anyone, from animals to people, into following him. With disastrous consequences.
The rise of Adolf Hitler -- whose melodies beguiled millions -- was only possible due to the enthusiastic support of influential citizens. The reference we are making here is neither to Bankers nor Big Business, although these undoubtedly played a role.
It's the Professionals we are thinking of, thousands just like many of us: musicians, writers, artists, filmmakers, copywriters and marketers.
Once they became completely aligned through Nazi Gleichschaltung and controlled by Goebbel's Reich Ministry for Popular Enlightenment and Propaganda, they knew exactly what songs to sing. And which tales to tell. And they did so, with diabolical brilliance.
The Magic Paintbrush
One of the most famous advertising artists of 20th-Century Germany was Munich-based Ludwig Hohlwein, whose distintive signature adorned all of his campaigns, for a vast variety of products.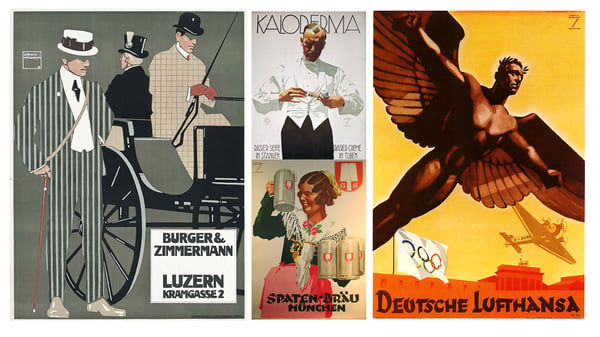 Ludwig Hohlwein posters, 1908-1949
Hohlwein became a member of the National Socialist Party in 1933 and, from that time on, was the most prolific and visually powerful graphic artist for the Nazis. In bold, direct and appealing posters, his enormous talent was placed at the feet of the "Leader", who could depend on such luminous, heroic figures to persuade Germans everywhere to follow him, mesmerised, right down the path to Destruction.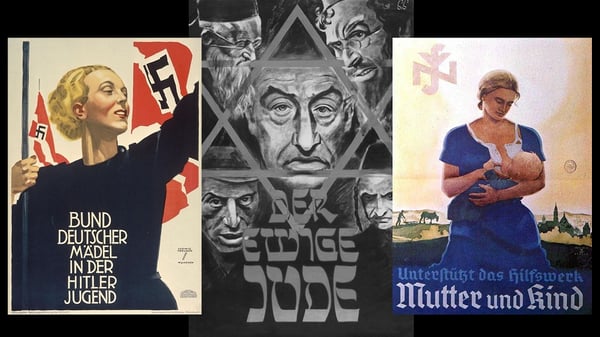 Well-known Nazi propaganda posters by Hohlwein and others, based on Jungian archetypes

The Messiah-Maker
The role of the advertising poster was preeminent at the beginning of the Twentieth Century as Mass Advertising kicked into full gear. Such posters played a decisive role in catapulting Hitler to power.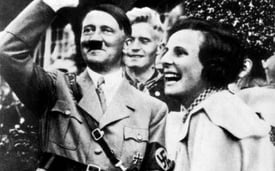 Still, it was the nascent possibilities of dream factories such as Babelsberg (Germany's Hollywood) as well as skillful filmmakers, composers, actors and singers who gave Fascism the normal, aspirational, even happy-go-lucky image it craved. And one of Germany's most talented cineastes also bowed the knee to Hitler, in exchange for creative freedom, fame and unlimited budgets.
Her name was Leni Riefenstahl -- considered by many one of Cinema's greats -- whose enormous talent, intelligence and technical prowess gave birth to unforgettable films such as Olympia and Triumph des Willens ("Triumph of the Will").
Her documentary of the 1936 Berlin Olympic Games is a showcase for Jungian archetypes -- most notably, that of the Aryan "Hero" or "Heroine" -- a common theme in most National Socialist Communication. The simple, direct connection provoked by such imagery is extremely powerful, bypassing rational thinking and activating emotional responses.

The godlike athletes in Olympia soaring like birds ...

The shots of a messianic Hitler descending from the clouds to the 1934 Party Day ...

The ecstatic crowds of young people in Nürnberg:
All these are riveting. And absolutely dangerous, made possible by expert marketers.


---
FREE DOWNLOAD: Learn how we can help you communicate your Sustainability Strategy in this PDF
---
3. Rewriting History
Is there a way to avert a second holocaust of planetary proportions? Do Marketing professionals have a role to play? We think we do.
Harnessing the power of Marketing, whilst avoiding the mistakes of the past.
At Barcelona Virtual, and throughout the international network we're part of, we believe we can help many institutions, companies, even nations to #TellTheirStoryWell.
We're convinced that it is possible to mobilise millions -- and even billions -- of people around the world. This time, not to harm but to heal. Not to destroy, but to restore:


Helping change consumer habits, encouraging sustainable lifestyles

Innovating with new sustainable products and services

Convincing lawmakers to invest in renewable energy and technologies

Achieving the United Nations SDGs by 2030

Giving hope and support to children and young people concerned about the future
How Might You Begin?
Lets look at 3 practical tips to help you begin to tell your Sustainability Story strategically, effectively and creatively:


Strategically: Focus everything on your project's key objectives and on the profile of the type of people you wish to reach.

For example, let's say your goal is to convince your nation's companies to recycle waste and to switch to renewable energies (environment), whilst involving their employees (social) and maintaining sustainable growth (economic). Then your target audience would clearly be high-level decision makers.


Effectively: To communicate effectively is to connect. This requires a User-Centric strategy that allows you to speak directly to the exact type of person in leading companies who will be open to your message. The more specific and relevant you are, the more effective.



Who is this decision maker? The CEO? Operations Manager? Key stakeholders?





Creatively:

In our agency

, we focus on "

looking for Wally

", a fun way of keeping in mind that 20% of an audience will create 80% of your desired results (sales, actions, advocacy, etc.). We then concentrate on

getting to know "Wally" as best as we can,

in order to know exactly how to talk to her and which channels are used by him.

To finish our Business example,

creativity that is based on their own goals, language and media

(Linked In? Twitter? Mobile? Podcasts?) will help you to very quickly capture the attention of busy executives, offer them value in your proposal and ...

move them to action!



(By the way: If your "Wallies" were to be

teenagers

in your market or region, all of the above would be

radically different,

of course!)
We hope that these quick tips can guide you in creating a fresh, clear and relevant Sustainability Story of your own.
And that you might have caught a vision as to how you, as an expert communicator, might make a very important difference in this critical moment in Earth's history.
To get inspired, take a look at these excellent examples.
---
PODCAST: DR. JOSÉ LUIS MACCARONE, FORMER UN DIPLOMAT
Alexa European Marketing Flash Briefing 11 | Marketing, Innovation and Climate Change
---

Key Points
The global summit in Madrid on Climate Change (COP25) is a turning point in history.

Professionals in Advertising, Marketing, Design, Press and Cinema have immense influence.

Adolf Hitler's rise and the Holocaust would not have been possible without their support.

#TimeForAction: As Marketing professionals, we can contribute to solving the climate crisis.


---

Originally published on this blog on 02 December 2019
Updates:
Barcelona Virtual adheres to the United Nations Global Compact and Pacto Mundial in Spain.