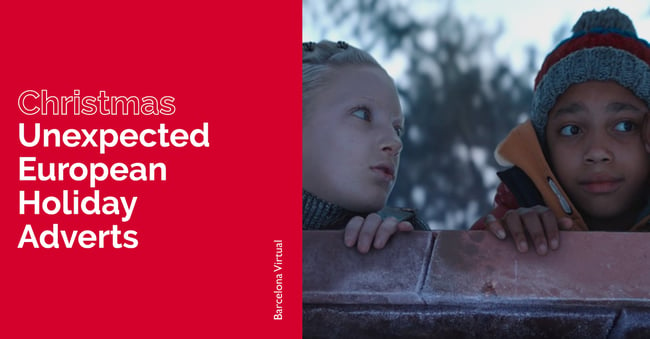 Photo: John Lewis and Partners
Should you be reading this from across the pond, as we say in Europe,
you might be baffled.
After all, it's the fourth of January. We've crossed into the New Year.
Aren't we ... well ... DONE with Christmas?
That's sadly true in the country that brought us Black Friday,
Amazon Gift Cards and a jolly Saint Nick, stylised à la Coca-Cola.
In the US, Santa is expected to land on one's rooftop
at the stroke of midnight. The very high point of the Commercial Christmas.
Twenty-four hours later, it's a different story.


---
As digital timepieces flip over to 12.00 am,
TVs around the United States explode with a barrage of spots
announcing the "After-Christmas Sales".
Your cocoa might still be warm, but for Americans,
IT'S OVER.
Not so in Europe!
---
From the North to South, traditions vary greatly and
Europeans have still bravely resisted the tsunami of Globalisation.
If anything, details of each local culture are treasured all the more.
And it's a very long party!
For example, celebrations begin as early as 6 December
in The Netherlands and Germany, with Sinterklaas and Nikolaus, respectively.
This is followed by Santa Lucia on the 13th in Sweden.
Across Spain, how (or whether) one celebrates on the 25th depends on personal family traditions. Because everyone knows that the Real Show begins on Epiphany, the night of the 5th to the 6th of January, when the Three Kings arrive, bearing gifts and following the Star to the Christ Child.
Further to the East, it still won't be officially Christmas
in Russia until 7 January 2022.


---
This endearing spot from Budapest has an authentic feel to it, from the stressed impatience of the shoppers right down to the Communist-era furnishing of the protagonist's flat. Prepare for a happy ending. thanks to the briliant work by VMLY&R Hungary.
---

This is why our annual Christmas post
of the best European Holiday Adverts
is so popular.

Not only do these spots reflect universal values
and emotions. They also offer a special look
into the intimate lives of Europeans,
with all of our hopes and fears.

What they also reflect is the "Zeitgeist":
the very spirit of the times.
Let's take a look.


---

1. UK: Like the Very First Time
For many people in the United Kingdom,
the Christmas Season hasn't truly begun until the newest
John Lewis holiday spot has been released.

Not only is there fierce competition from other retailers
to surprise and delight their customers.

These creative masterpieces are also the perfect showcase
for some of the best advertising agencies in the world,
such as London's adam&eveDDB.
2. GERMANY: A Mum's Surprising Wish
Much like a screeching Christmas Train that violently derails,
this German advert eschews bright holiday scenes and leaves us
at a dining room table in shadows, at which sit a mother and son.
Both are unable to sleep, so they talk.
What shocks viewers from the start is a series of dark scenes
from a life she wishes for her teenager: far from sentimentality,
she literally wishes him triumphs and defeats,
drunken nights, love found ... and then painfully lost.
Right-of-passage experiences lost to many during the severe
lockdowns and other measures during 2021.
Told in an unforgettable way by Serviceplan in Munich.
Her unique holiday wish is expressed simply:
I wish for you to be able to get your youth back.
3. HUNGARY: An Unexpected Wish
Deutsche Telekom Hungary teamed up with DDB Budapest
to produce this simple gem.

The endearing story of the relationship of a young boy
with his grandfather, played by one of Hungary's most well-known actors.
In this age of sophisticated digital toys, when he asks his grandpa
for the "biggest gift of all", everyone is in for a great surprise.
4. NORWAY: When Harry Met Santa
After a single man discovers a red-robed man
in his living room one winter's night in Norway,
(and who disappears "in a wink of an eye")
his obsession becomes to see him again.
Years go by and a relationship slowly develops
leading "Harry" to enlist the help the Norwegian postal service,
Posten, in aiding his friend with so many packages.
The intriguing tale of "When Harry Met Sally Santa"
spun by Oslo agency POL ends with this impactful message:

In 2022, Norway marks 50 years of
being able to love whoever we want.


5. UK: Real Magic
To be very honest with you, our team often balks
at showcasing spots from high-budget, multinational brands.

They're usually extremely well done, and after all,
shouldn't they be?
Nonetheless, we all felt that Coca-Cola truly captured
the yearning of millions for a true sense of community
in this world of individualism, isolation and division.
The "Real Magic" of this advert is born in the imagination
of one small boy who – once again – makes a difference
for many more. Seen in over 90 countries,
this Spanish version needs no subtitles at all.
You'll see ;-)


6. UK: Reality Show Christmas
Sadly, the video is no longer
available online.


In their own massive compendium of great Christmas adverts,
we think The Drum sets up this spot best:

To celebrate this year's Christmas festivities,
the BBC's in-house creative team has gifted us
with an almost 4 minutes long film highlighting
what the big day looks like in homes
up and down the country.
From loud embellished jumpers to early morning
bucks fizz to cheery holiday jingles,
the spot focuses on everyday people and offers a relatable reprise
rom more typical holiday campaigns.
A well-chosen antidote to too many Instagram Fake Realities,
don't you think?


Fancy watching more UK Christmas Adverts?
Enjoy our 2019 special selection.

7. SPAIN: Always Connected
Sadly, the video is no longer
available online.
In the Spring of 2021, Spain's huge international telecom,
Telefónica, unveiled its "new-old logo", a restyling of
the famous anagram well-known to the older generations.
This strange quirk by one of the world's most technologically
advanced companies just might have been their agency's
inspiration for this hidden love story.
With the help of smartphones,
– in the most unlikely of places, a home with a distinct
1970s feel to it – a Christmas romance develops.

You might remember that next time
you ground your teenager for too much "screen time"!
---